Now a community landmark, Patches Pub used to be a place very few frequented. Ever since the new owners took over, employed their chef, and changed the atmosphere of the pub, it has been a hit with the locals, snowbirds, and tourists. The food, the drink specials and the atmosphere will draw you in and bring you back. Best enjoyed when the weather is nice, which is often throughout the year, this is also a family friendly place to eat, and a nice place to bring your dog.
Address: 4723 Thomas Drive, Panama City Beach, FL 32408 (Near the Thomas Curve)
Website: patchespub.com
Facebook: Patches Pub
Category: Pub
---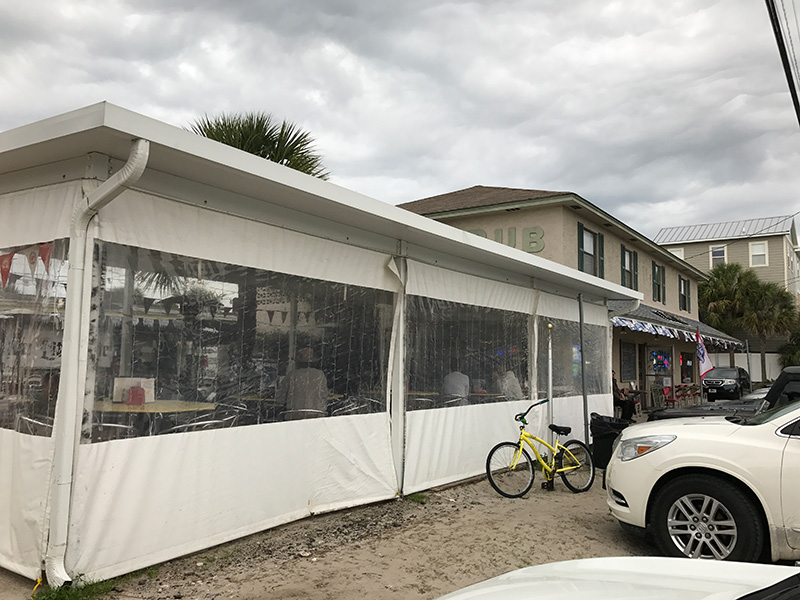 Outdoor Seating
The outdoor seating is the main draw of Patches Pub. Over the last few years the owners have added and improved the outdoor seating to include a solid overhead awning with plastic flaps that can be pulled down in case the air starts to get a chill to it, the rain starts to fall, or the wind picks up. Propane patio heaters are also available to keep you comfortable in our mild winters. During the evenings and weekends, live music is typical on the small stage out back. Feel free to bring your dogs, who also get cold drinks from fresh water bowls.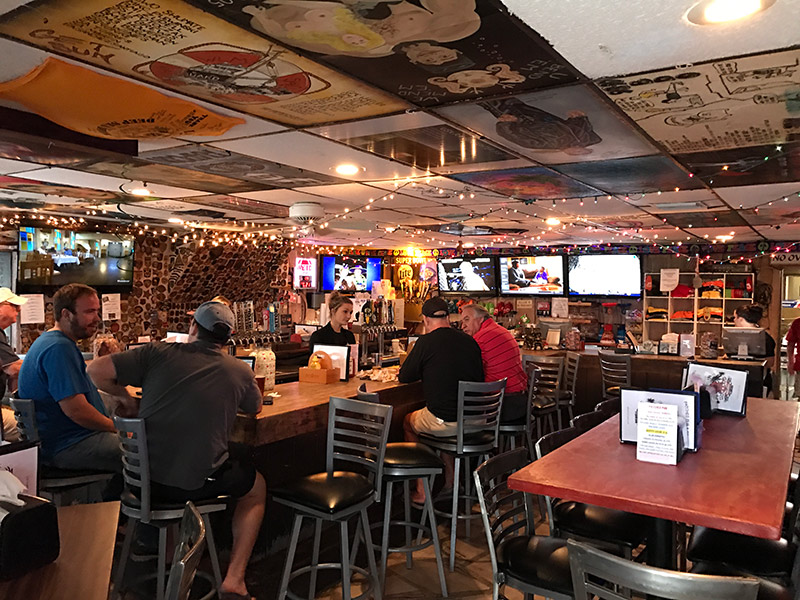 Indoor Nostalgia
The indoor seating is what gives the name to Patches Pub. This used to be a dive bar, and by that we mean, the local divers used to frequent here. Over a number of decades anyone visiting would be allowed to place their patch on the wall. The ceiling tiles were also decorated. Since the new owners, the interior has seen an improvement in the ambience and furniture, in addition to the chef that they hired, while staying true to its early history.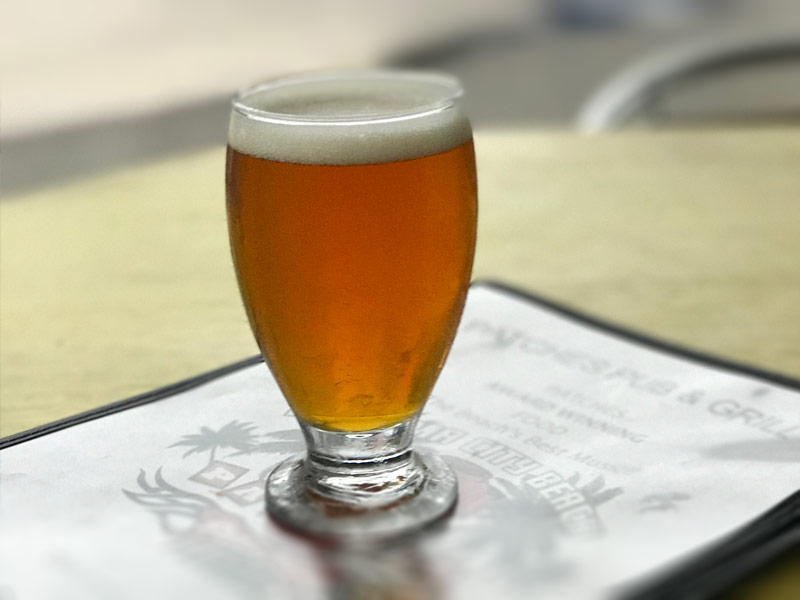 Draft Beer
Patches has over 30 different beers on tap, some regulars and some seasonal. A local beer is usually on tap, but there are many different cold and tasty draft beers. Enjoy the daily drink specials.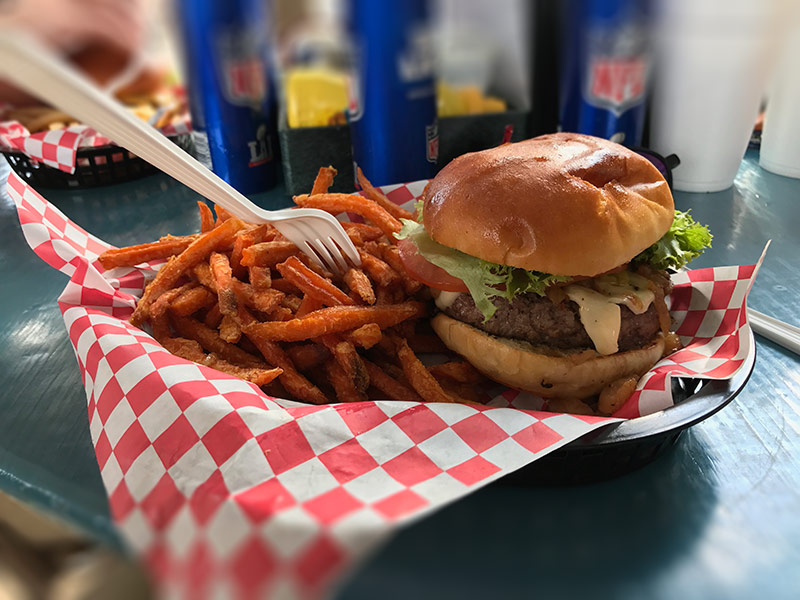 Build-Your-Own Single Hamburger with Sweet Potato Fries
Patches was voted Best Burger in Bay County for the last few years. Uniquely made with a pretzel bun, this build-your-own burger comes with a ton of options at no extra charge to create your own specific burger to your taste. Side options include fries, Chef Craig's signature Mac N'Cheese (amazing), Southwest Pasta Salad (a popular favorite), potato salad, cole slaw, and the sweet potato fries (extremely popular) pictured here.  If you are really hungry, try the Old MacDonald, a massive burger with pulled pork, fried egg and more on it!  The Hell N' Back Burger is also the local's favorite.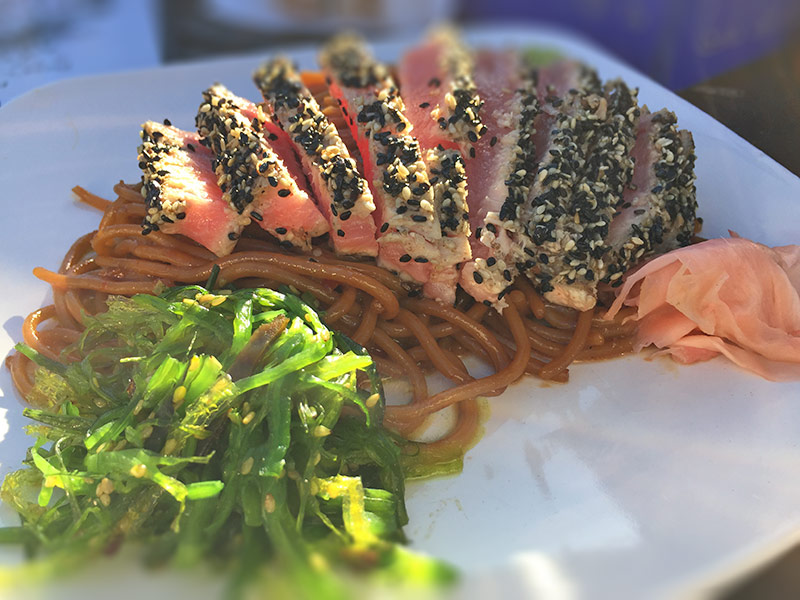 Tuna Special
A favorite among patrons- this is not an item normally on the menu. Instead it is only offered as a special usually on Fridays. If you come around dinner time, the special may already be sold out! Tuna is seared and flavored well, with sesame seeds and placed on a bed of noodles. Served with a side of seaweed salad.  At under $10, this is a super deal that you'll see on everyones table.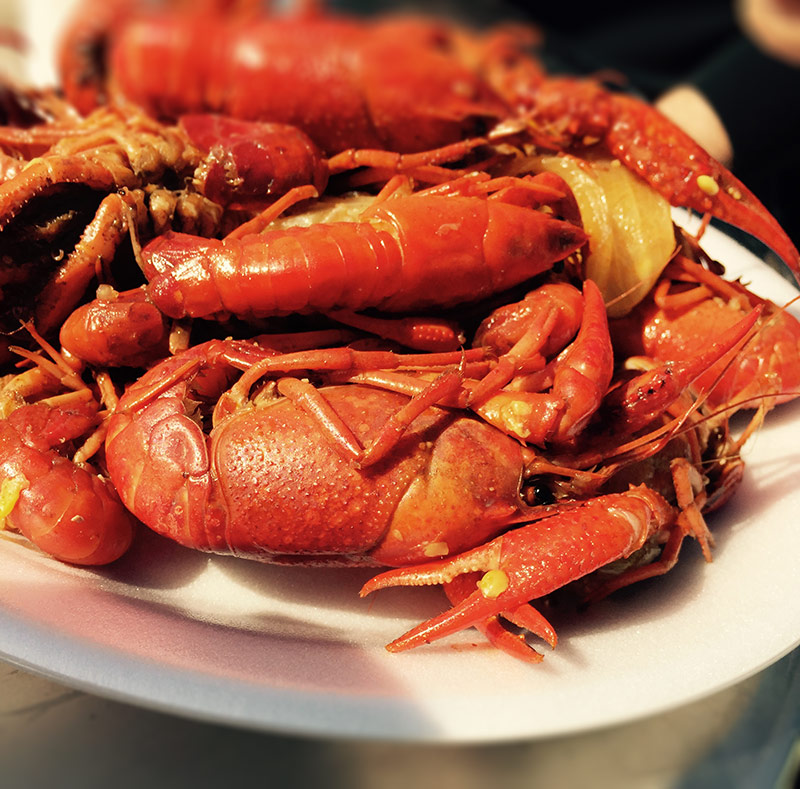 Crawfish Boil
Patches has many special events which draw large crowds like the Thanksgiving Turkey Bowl, Halloween Costume Contest, Bar Crawls, Chili Cookoff, or some Sundays during Crawfish season, a Southern favorite, the Crawfish Boil. The Crawfish Boil is all-you-can-eat and tasty as can be.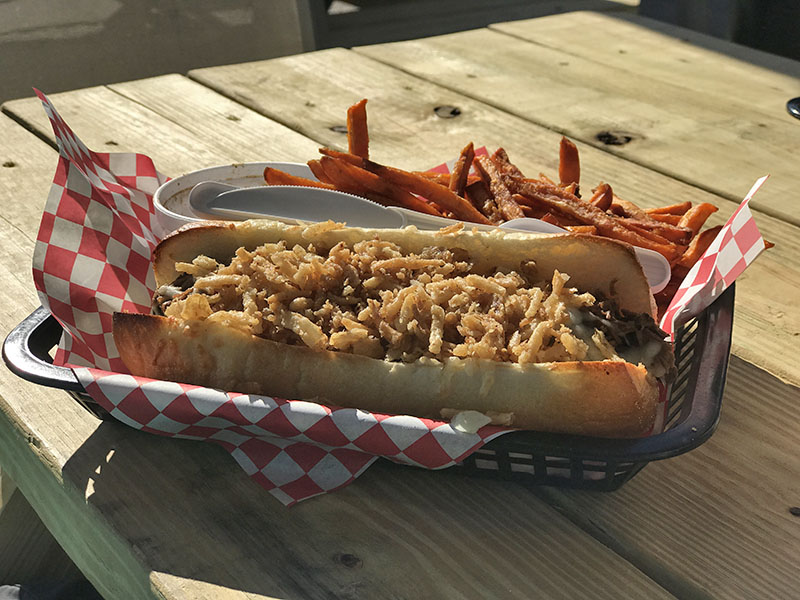 French Dip
A regular Patches menu item, this sandwich is a classy version of the classic French Dip. Roasted Angus Beef, cheese, horseradish sauce with onion straws and served with Aus Jus, this sandwich is true to the classic French Dip you love, with the extras that make it memorable.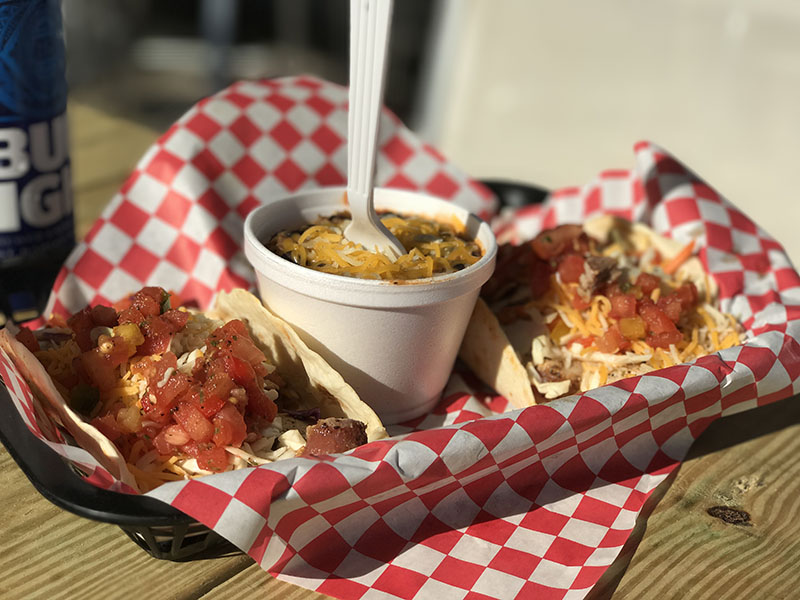 Fish Tacos Special
New on the daily menu specials, this is not a normal menu item, however it is very tasty! Served on a flour tortilla with a sizable portion of Ahi Tuna and topped with spicy pico de gallo & shredded cheese, very satisfying as a dish. Enough food to share with another person if you are worried about portion sizing, or it is a large meal if you are hungry. That being said, the dish comes with their spicy beans & rice as a side which can be substituted for a slight up-charge.
---
Location
Located at the Thomas Curve, this pub is the last place to grab a bite to eat before reaching the St. Andrews State Park. While not actually on the beach, it is right off of Thomas Drive and only two blocks off of the beach. The parking wraps entirely around the building, but parking is still hard to find due to the popularity.
Ambiance
Nostalgic of a dive bar, this bar gets its name from all of the patches of military,  law enforcement, and other patches that decorate the wall. The peninsula bar that fills the main area inside. Additional table seating is available around the bar area as well. The connected room has more tables to sit at, as well as a corner stage that hosts live music, karaoke, and Bingo depending on the night. Besides the inside, the large outside seats more patrons with a covered awning as well as uncovered seating, another live stage, and a tiki bar. To keep the customers comfortable, soft sides roll down to block the wind and outdoor heaters to keep away the chill in the air. The outside seating is used year round and draws many customers.  The live music can be a bit loud at times, so you may want to sit inside if that bothers you.  Unfortunately, some people still smoke cigarettes & cigars outside, and can be a nuisance if you are trying to enjoy your food.
Cleanliness
Even with an old dive bar look to it, it is surprisingly clean especially since it receives large volumes of traffic. Do not miss out on a table because it is dirty; the waitstaff will clean it for you as soon as they see you sit down. The bathrooms are a bit shabby, but they are clean albeit small and dainty. In the past, they had a pair of nice outdoor bathrooms but rumor has it that code enforcement shut them down, and is now replaced with one Port-A-Potty (don't use it).
Menu
Besides the comforting bar appetizers, well-liked menu full of entrees bring in most customers and finish you off with desserts that hit the spot. Food specials change daily, some of which sell out early in the day from the popularity! Most known for their pizza, wings, burgers and sandwiches, they offer the classics. Hands down, our two most favorite wing flavors are Dry Rub and Mango Chipotle, if you like some heat try out the Dragon's Breath! While the regular fries are good, the sweet potato fries are also very popular. Great desserts include their awesome bread pudding. Beer specials start at $1.50 Rolling Rock draft, or $2 Lite tall cans.  Pitchers are cheap, and they have killer happy hour deals all the time.  They also offer some house wines, and new wine mixed drinks, but no hard liquor is available at this time.
Prices
The prices are great. If you want to get a good meal on a tight budget, as well as have a good time, come here. You can get a whole pizza with a pitcher of beer for under $20. The owners found the hook to bring in the clientele- good food at great prices. The word is out.
Quality
The quality of the food is very good. It's hard to imagine an old beach pub with very good food, but they pulled it off using some great chefs! Not fine dining, but the food is a better quality than you would expect while sitting outside on a picnic table or at most pubs.
Presentation
The food presentation is ok. The pizza is served on a flat round pizza pan put on a stand on your table, some specials are served on plates, while the rest of the food is served on lined paper in a basket. The presentation works with the pub styling.
Service
Service has seen its ups and downs throughout the new ownership, but the staff is very friendly. As the popularity has grown and weighed down the staff, they have hired new employees to meet the demands. We have experienced slow service in the past, especially when they are packed, but lately it has been spot on.  Weight times for food is usually 10-15 minutes, if it's super busy you may have to wait a little longer, but have some drinks and enjoy your visit. They can get large parties of Navy guys training at the nearby base, which can also cause a little delay in your food arriving promptly.
Location

Ambiance

Cleanliness

Menu

Prices

Quality

Presentation

Service
Summary
If you are looking for a fun beach pub to eat at, and don't want to spend a ton of money, then give Patches a try. Their consistently tasty food, and reliable service will keep us coming back. Great drink specials, outside ambience, live music & fun activities makes Patches Pub & Grill a local's favorite in Panama City Beach.