Recently remodeled and given more character, Thai Basil now has a comfy feel that helps you enjoy the delicious food. The food is amazing and authentic. With so many choices, you will have a hard time deciding what you want to eat, and each dish is more delicious than the next. As more and more people find out about this gem, it is getting more and more popular. Come by to find out what everyone is talking about.
Address: 1001 Beck Ave, Panama City, FL 32401 (At Beck & 10th Street, a block from the St Andrews Marina)
Website: ThaiBasilPCFL
Facebook: ThaiBasilPCFL
Category: Thai/Asian
---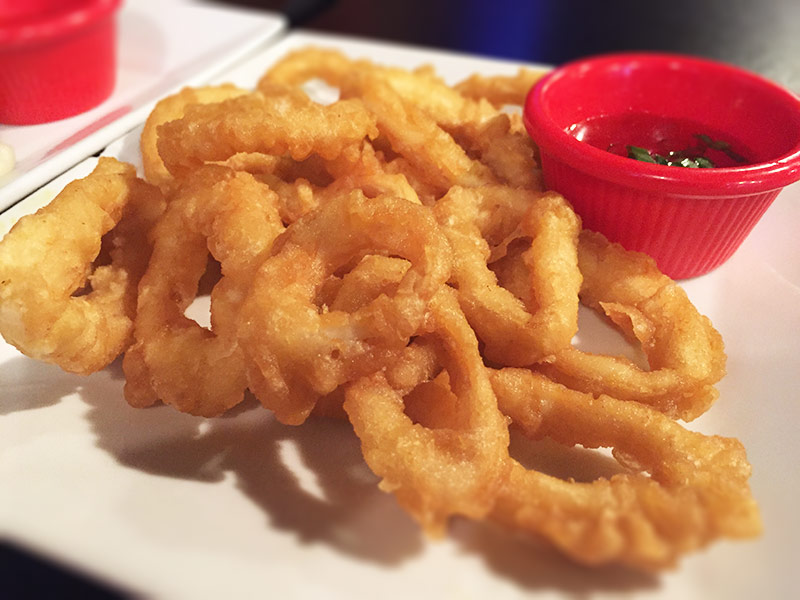 Calamari
Many restaurants offer Calamari, but most do not do them well. Thai Basil serves them hot (which keeps them from getting tough and chewy), crunchy and tasty, all without being soggy or greasy.The dipping sauce is well flavored and compliments the calamari well.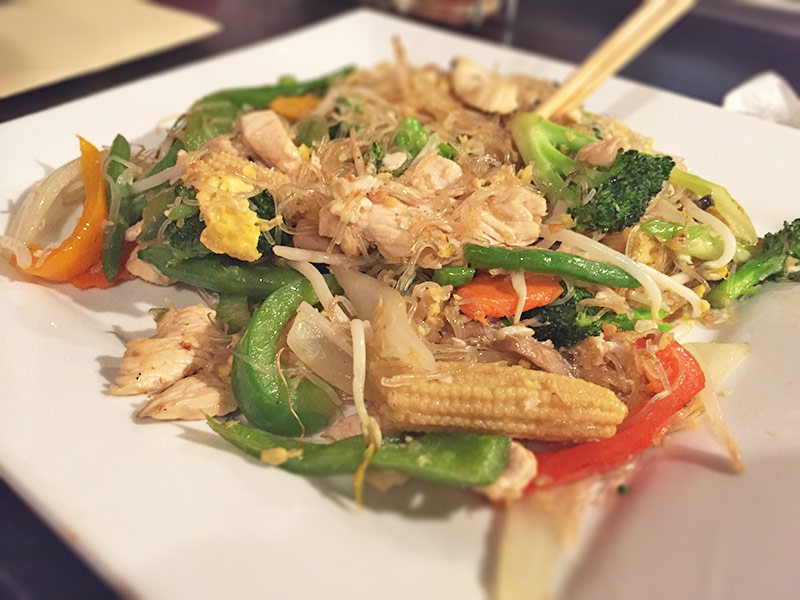 Glass Noodle with Chicken aka Pad Woon Sen
If you like mei fun noodles, or noodles in general, this is a great dish for you! Glass noodles may look different, but are very tasty and these are no exception. The seasoning is flavorful with a great mix of veggies. The vegetables are cooked perfectly, not mushy and not too crunchy. Every time someone orders this, the rest of the table insists on getting a few bites.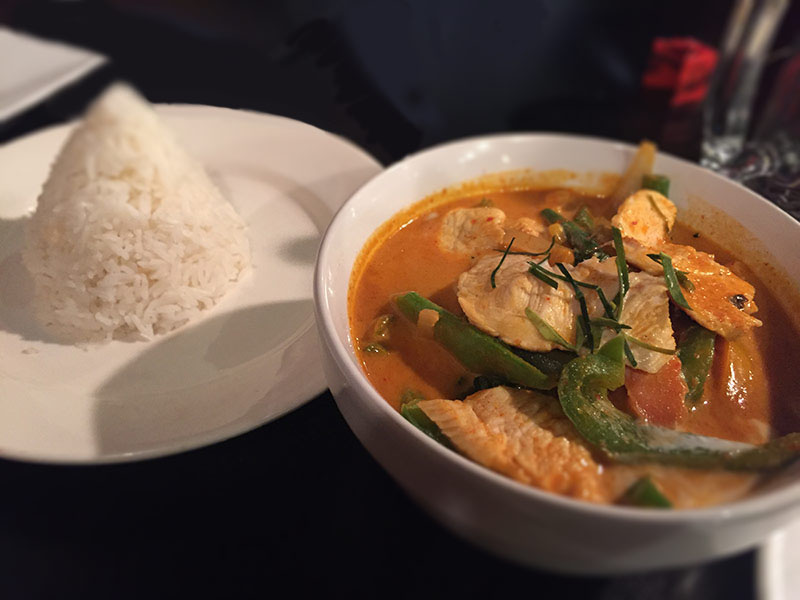 Panang Chicken Curry
Thai Basil has more types of curry offered than most other Thai restaurants. This curry is one of my favorite- all of them taste great, but I choose this one because of the vegetable mix that goes with it. Typically it has some spice, but I don't order it spicy. Thankfully they serve it at an American spicy level, but you can always get it hotter!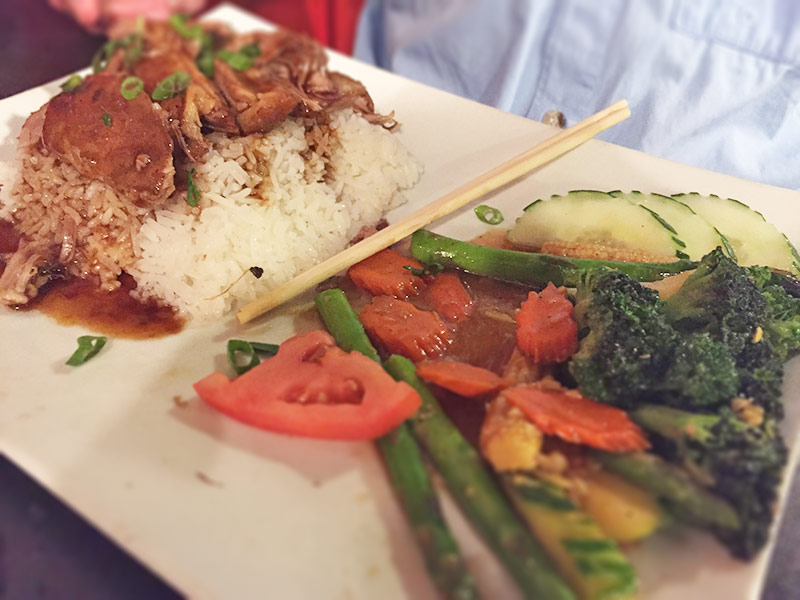 Duck on Rice
There is more than one dish that serves duck at Thai Basil, and both are great! The duck is flavorful and the texture is crunchy, so if you have never tried duck before, this is a great place to try it! They also cook the rice perfectly with every dish and so are the vegetables.
---
Location
Located in St Andrews, it is at the end of the main street Beck, next to the Oaks by the Bay Park and the St Andrews Marina. The parking is tight on the front of the building, but there is more parking around the back of the building and along the street. Something to note is that they advertise delivery for up to 10 miles, which covers both hospitals, up into Lynn Haven, Down into Callaway, and across the bridge into Panama City Beach.
Ambiance
The inside appearance of Thai Basil is more exciting now with the new facelift. Now it is a cheerful lime green that adds to the appeal of the food. New tablecloths and placemats give it a new fresh look. This building was enclosed around a tree, so the tree is right in the middle of the main dining area, but you may not notice it since it is enclosed by the building, yet still outside. There is also an outside eating area in front of the entrance which is really inviting, especially at night with the lighting. There are TVs usually on with sports going, which is great if you are hungry during the football game on Sunday or a UFC fight during the evening. Bring a jacket since it is always a little cold inside.
Cleanliness
When you just missed a rush you can tell, but the owner does a great job of cleaning up once she gets your drinks and puts your orders in. The bathroom is hopefully next on the list to get updated, so try to avoid if you can. Avoid the bathroom.
Menu
There is a large variety of great appetizers, entrees, and desserts so there is something for everyone. Most of the appetizers I have tasted, and I still haven't found a bad one. Oftentimes she serves each entree with a soup- and it is very flavorful. The duck dishes are amazing. There are multiple curry options, and its hard to choose which one to eat. One of my favorites is the glass noodle dish, which is a great dish for those who are a little more timid about trying Thai food. There are a handful of desserts offered, and they are delectable. This is a great place to go and eat tasty food that is not the norm and much healthier than the regular Southern cooking.
Prices
This is a great place to go out, but also a great place to order out. The price can get spendy, but you will end up with leftovers on each plate. This is "real food" so expect to pay a real price for it; it is worth it.
Quality
The quality of the food is Amazing. Our friends, family and we have been going there for over a year and we are still waiting for a dish that is not good. The ingredients are fresh and the flavors are robust.
Presentation
The food presentation is very good. There are often different shaped dishes for different menu items, so thought has gone into the look of the presentation.
Service
Lately we have seen some additional servers since the word is getting out on the food, but the main server is still the owner. She is very nice, but she does not speak English well. Instead of straight verbal communication, she will use her facial expressions and phrases to connect with you. Sometimes this has led to incorrect orders, but she seems to understand English much better than she speaks it. Hospitality comes naturally to her, and she can multi-task serving duties when she gets a rush, so the service is actually much better than most places in the area. Once you connect with her, you will find she grows on you and you cannot help but love her. She has new staff and they speak English much better, and they are encouraged to be just as hospitable as she is.
Location

Ambiance

Cleanliness

Menu

Prices

Quality

Presentation

Service