Local food legend, Finns Island Style Grub has created quite the following with the fresh ingredients and unique flavors. There are two locations- one on Thomas Drive and one in St Andrews. They serve the same menu items, but the locations are totally different from each other. The Thomas Drive location is the original location and it has a unique feel.
Address: 7220 Thomas Drive, Panama City Beach, FL 32408 (Near the Thomas Curve)
Website: FinnsIslandStyleGrub.com
Facebook: FinnsIslandStyleGrub
Category: Seafood
---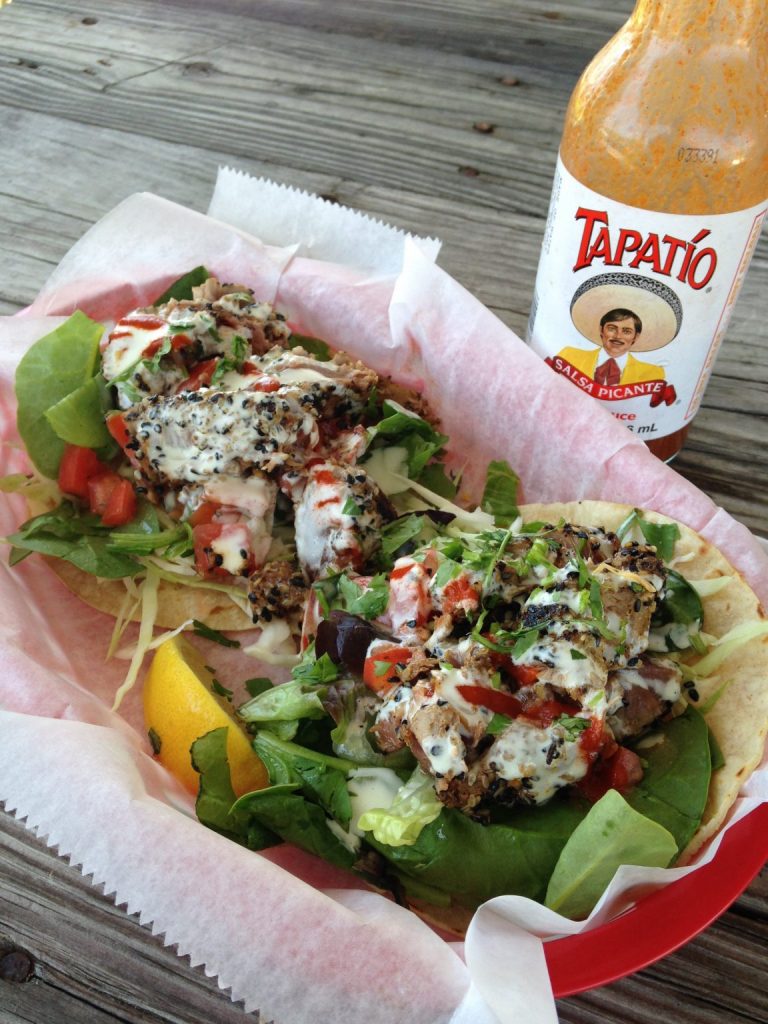 Seared Ahi Tacos
Finns is known for their fish tacos, and these seared Ahi tacos are a Finns staple. The ingredients are fresh, and their meats depends on what they get locally, fresh, and in-season. Try the specials they serve, which change daily, since these are probably some of the best, local caught or fresh fish they can get and should be quite tasty!
---
Location
Located on Thomas Drive, this food truck has a permanent location next to Mr Surf's Surf Shop. While not actually on the beach, it is right off of Thomas Drive and only one block off of the beach and across from Richard Seltzer Park. The parking is in the front and wraps around the side building. Usually it is a popular place to grab some grub, but there is still enough parking.
Ambiance
Finns Island Style Grub started out as a food truck in a parking lot, has now built over a roof for the tables, but there are no walls or floors. Instead of walls there are fences. This is outside seating on picnic tables, so it is comfortable seating almost year round in the Florida weather. Close to the picnic seats, there is a small playground for the kids. The colors are bright and the atmosphere is cheerful. If you are there after dark, they have a little bonfire.
Cleanliness
Finns Island Style Grub is outside with picnic tables on gravel, so it is obviously not the cleanest seating. However, the tables are cleared off regularly, patrons typically throw away the trash themselves, and the food truck looks clean from the ordering window. The ground is well kept.
Menu
The menu has a nice mix of appetizers and entrees. Most everything tastes great, with fresh, bold flavors. This isn't deep fried fish sticks, these are real pieces of meat, grilled, charred, etc, and flavored with savory sauces and paired with fresh ingredients for a flavorful experience. The appetizers come with chips from a bag, so they are never quite as good as fresh made chips. The quesadillas can be a little oily. The guacamole is never quite right, so I'd steer clear of it unless you like the store ready kind, which is exactly what it tastes like. Sometimes the carnitas are extra smoky, which can leave you burping for the rest of the day, but when it is good, is one of the best entrees to get for the price. They have daily specials, which I would encourage you to try if you get a chance. All of the ingredients are fresh and often the fish is local. Their kids menu is well-liked by the kiddos since it does not have fish, except for the goldfish sides. Feel free to take your picky eater with you the next time you visit.
Prices
The prices are a little more than fast food, but you are getting a much healthier meal. If you are not careful, you can rack up quite a tab with appetizers and entrees. If you are on a budget, there are still options for you.
Quality
The quality of the food is very good. Though you are getting food from a truck, there is consistent quality with the fresh ingredients and the food prep. Not fine dining, but the food is a quality than you would not expect while sitting outside on a picnic table. But thats the appeal of Finns Island Style Grub.
Presentation
The food presentation is ok at Finns Island Style Grub. Some time ago they served everything in plastic dishes, and then they changed it to paper dishes. This change has definitely not been a change for the better. The food looks nice in the little paper boat, but its still in a little paper boat
Service
The staff is friendly and they aim to please. They run the food out for you and really try to make you happy. Whenever I have had an issue, they have always bent over backwards to fix it.
Location

Ambiance

Cleanliness

Menu

Prices

Quality

Presentation

Service