Located in historic St. Andrews, Hunt's Oyster Bar has been a longtime favorite for both locals and visiting tourists.  If you are visiting Panama City Beach and want to experience a true Southern oyster bar, you'll definitely want to make the drive over the Hathaway Bridge to check out Hunts.  We have been to Hunts many times, and will try to give you some tips on getting a seat, plus recommend some of their best menu offerings.  Besides their food, Hunts is very well known for the long wait times to get in, sometimes 2+ hours, so continue reading to get some strategy before your visit.
Address: 1150 Beck Ave, Panama City, FL 32401
Website: huntsoysterbar.com
Facebook: facebook.com/pearlofhunts
Category: Family, Seafood, Oysters
---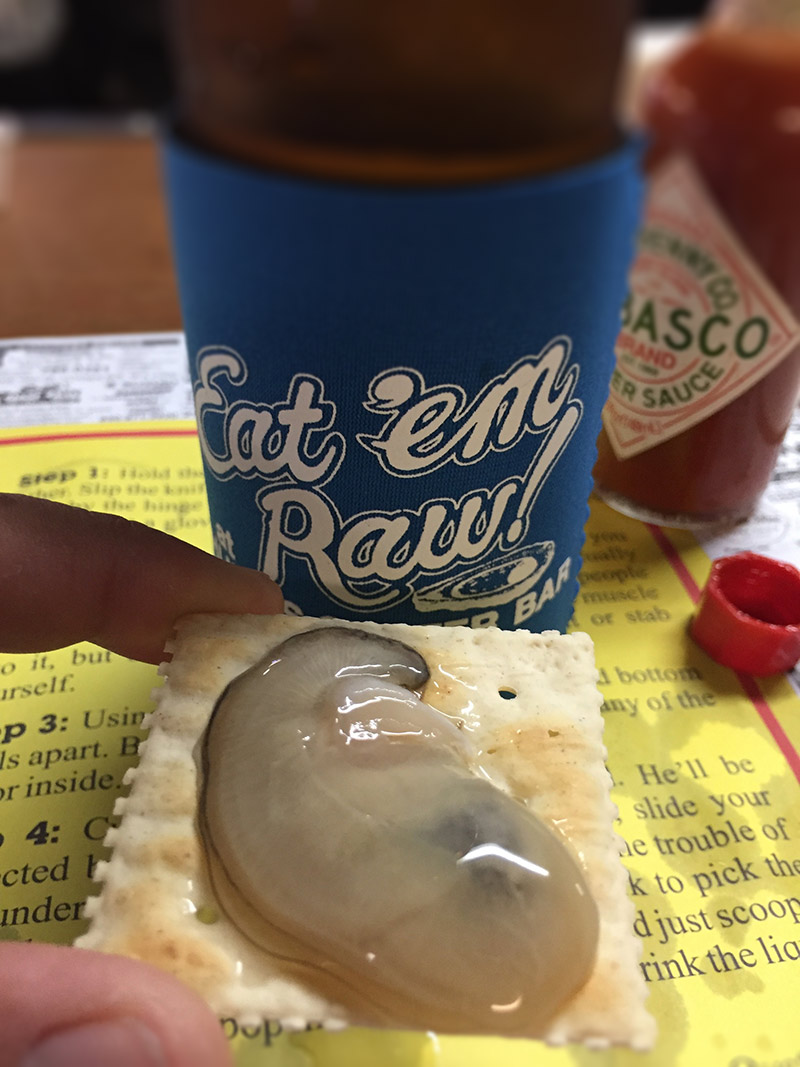 Raw Oysters
Hands down, Hunts has some of the BEST raw oysters in all of Bay County.  The owner works with local oystermen, who harvest some of the freshest oysters in the Panhandle.  While most places only promote Apalachicola oysters, Hunts gets theirs from our local bays, plus Apalachicola & Cedar Key (and sometimes TX & LA).
The main thing is, they strive to always have FRESH oysters which is key to getting the best.  Restaurants can legally keep oysters on ice for 2 weeks before serving so don't be afraid to ask for the harvest date when ordering.  The one pictured above is what you are looking for with a salty fresh oyster, nice and translucent with plenty of salt water.  If your oysters look dry, white or cream colored, they will be tasteless.
Oysters that look milky are probably spawning, and will lack that fresh salty taste that most people are looking for.  You'll hear a lot of people tell you not to eat oysters in months that don't have an "R", but that is something of the past.  Most people that get sick from raw oysters have a lowered immune system and are prone to getting sick anytime of year consuming raw shellfish.  Some of the harvesting areas get shut down during heavy rains and pollution so it's pretty safe to consume oysters when harvesting is open.  If you are still paranoid about consuming raw ones, check out their cooked oysters, which we review below!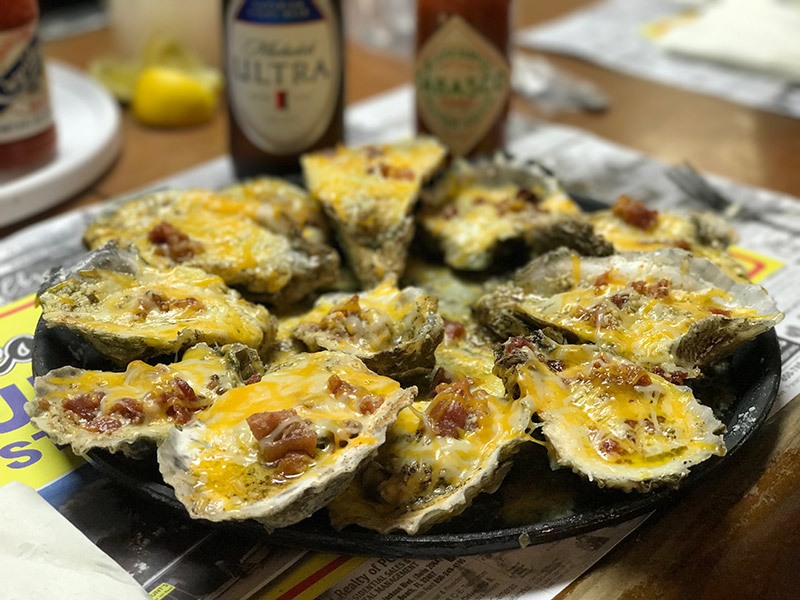 Triple Cheese Cajun Baked Oysters with Bacon
One of Hunts most popular items, we highly recommend trying these at least once.  These mouth watering treats are served in a variety of ways. You can get them just steamed, with parmesan cheese or the works like the ones pictured above.  If you have never had oysters before, and are a little apprehensive to try them raw, maybe start with a tray of these guys, you won't be disappointed. On a saltine cracker with a couple drops of your favorite hot sauce (we like Crystal) and you have yourself a full meal.  They cost a little bit more than the raw ones, but well worth it!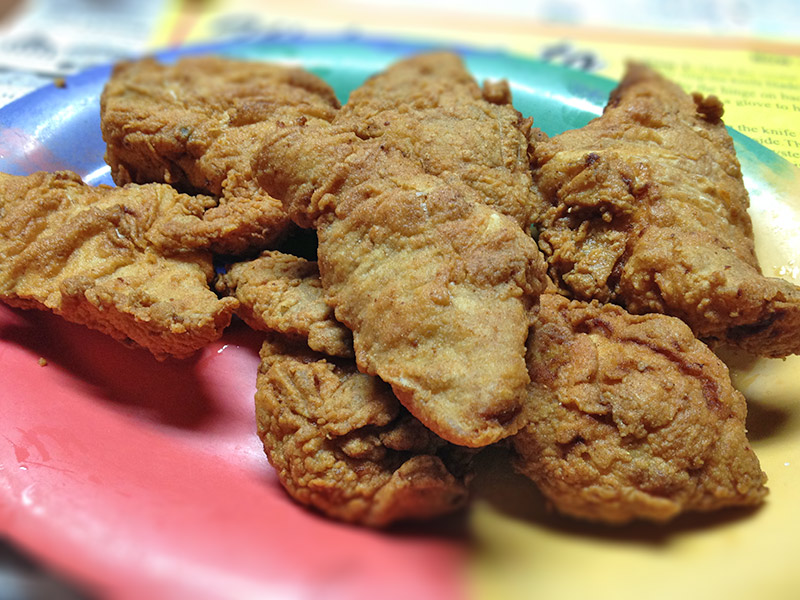 Fried Grouper Throats
Not on their regular menu, this is another local's favorite that you must try.  Don't let the name scare you off.  The throat or "cheek" of the grouper is some of the tastiest meat on the fish. Pure white meat, without the fishy flavor, you'll think you are eating some super tender chicken breast, but way better.  If you hate picking little bones out of fish, then grouper throats are the way to go, as they only have 1 big bone that usually falls right out as you eat them.  Available as an appetizer or full meal with two sides, this is a plate that you can share with others, as you can see from the photo Hunt's fills the plate up.  While some fried fish can get greasy, Hunts has a fairly light batter that doesn't overpower the taste of the fresh grouper.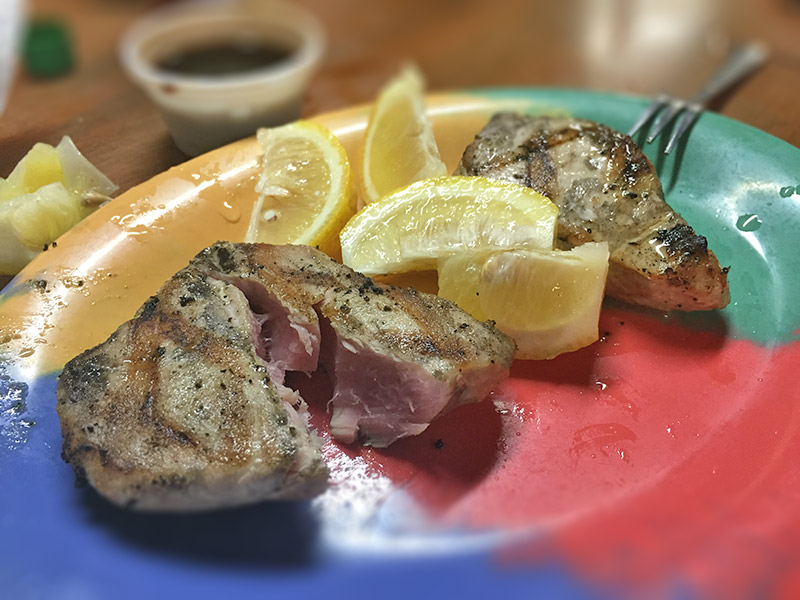 Seared Ahi Tuna
If you are looking for something super healthy, not fried, then try out the seared Ahi Tuna.  Make sure you ask for it rare, as tuna can get a bit dry if it is overcooked.  Portion sizes can vary depending on the fish they have in stock, but you usually get a nice piece for around $10.  Lightly seasoned, we like to squeeze some lime or lemon over the top and dip it in soy sauce (which you'll have to ask for).  Also available as an app or full meal, we highly recommend this mouth watering dish!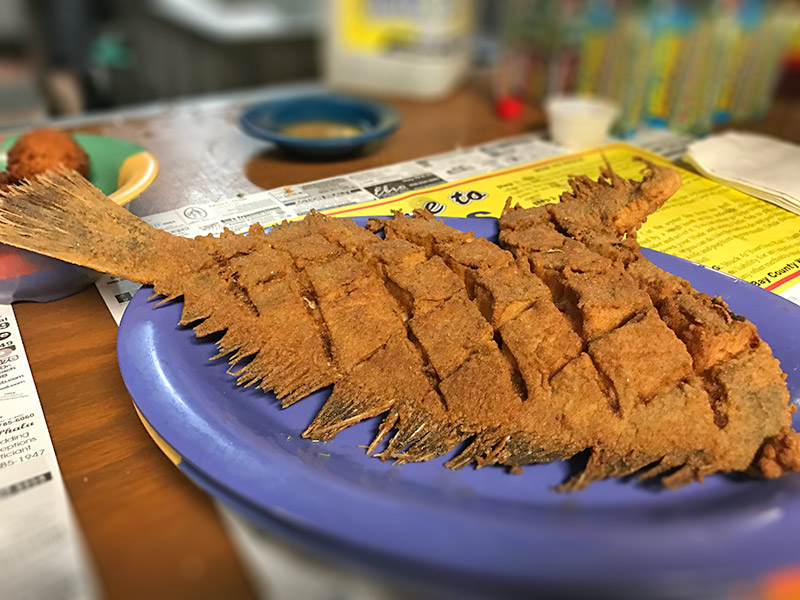 Whole Fried Flounder
Always bigger than the plate they serve it on, this fried flounder is some of the most delectable dishes on their menu.  Plenty of food for two, order this meal with two sides and your stomach will be happy.  We like to pair it up with their new potatoes and cheese grits, but they have a pretty good selection of side items to choose from.  This diamond cut flounder is easy to eat, just fork out the luscious white meat, remove the backbone, and enjoy the bottom of this flat fish.  The price is typically less than some of the more popular fish, but we think the taste cannot be beat!  Ask for the fried flounder at Hunts!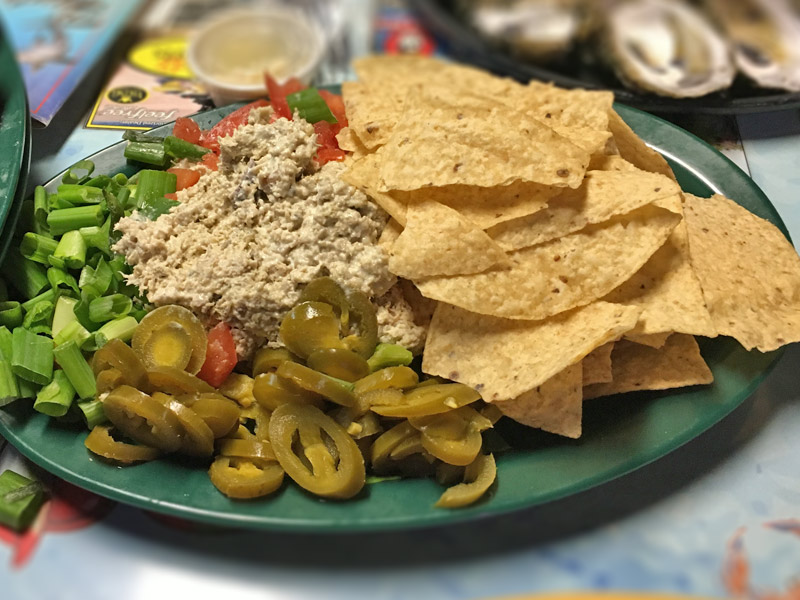 Smoked Tuna Dip with Chips and Jalepenos
The smoked tuna dip is another yummy appetizer available at Hunts.  Served up with semi-spicy jalepenos, you'll devour this dish quickly.  The dip is always fresh, and has a nice smokey flavor, but isn't too overpowering.  The tortilla chips are pretty standard, but paired up with the green onions and tomatoes, you'll enjoy every savory bite.  We aren't sure if Hunts makes the dip in house, as a lot of local restaurants buy their smoked dips from other nearby seafood markets.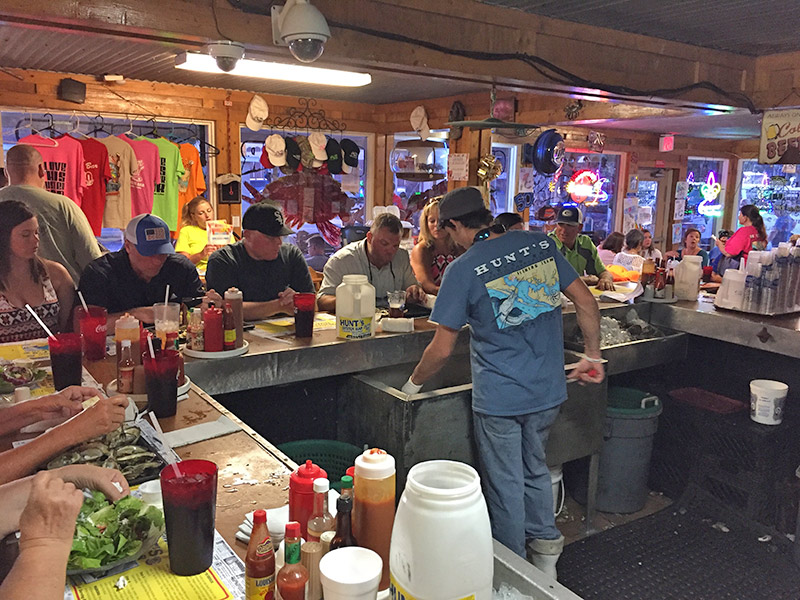 Oyster bar Atmosphere
This is probably the number one reason why people visit hunts, the good old Southern oyster bar environment.  The oyster shuckers are all great guys, who keep their customers entertained by cracking open fresh oysters right at the bar.  Don't forget to tip these guys if they shuck for you, and they'll remember you the next time you visit.  Load up the jukebox with your favorite tunes, sit back with a cold beer & a dozen raw oysters, and enjoy the full Hunts experience.  You'll most likely meet people from all over the country who have heard about Hunts, and wanted to see what all the hype was about.  The restaurant seats about 75 patrons, so expect to wait if you get there during prime dining times.  We'll provide a few tips below on getting a seat, but always be prepared to wait a little.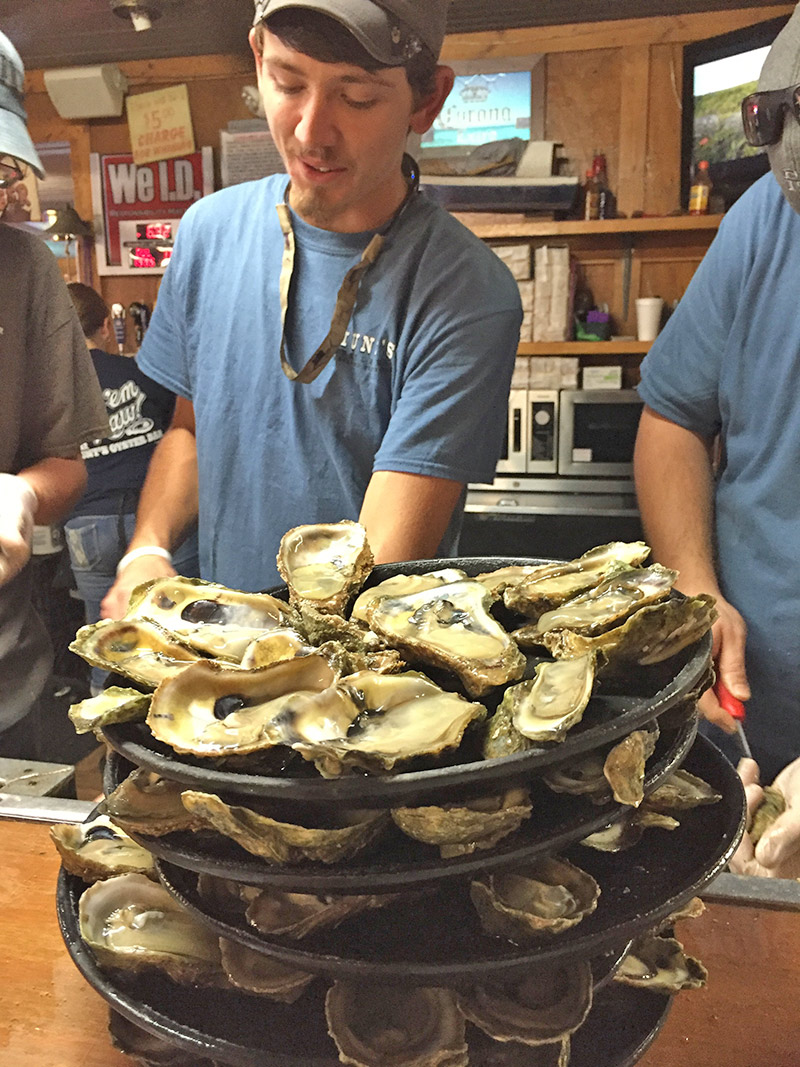 Oysters, Oysters, Oysters!!
These guys turn and burn the oysters quicker then you can eat them!  The shucker in the photo above is our good friend, Honor, who is the National Oyster Shucking champion.  This kid grew up in this oyster bar, and is now an Oyster Jedi out shucking all of the rest.  He is heading to Ireland soon for the International Shucking Championship and could use some help for his trip, please visit his GoFundMe and donate!  We also have to give a shout out to the other shuckers, Jake, Max, Dwayne & Josh.  These guys along with the other shuckers work very hard to keep Hunt's customers happy.  Not only do they keep the oysters flowing, but they'll make sure you always have a cold beer, or will take your food order at a moments notice. Remember to tip your shucker!!
---
Location
Located in downtown St. Andrews, Hunt's is easily accessible from both town and the beach.  If you are just visiting and are staying on the east side of the beach, it only takes about 10 minutes to drive over the bridge to get here.  If you are on the west end of the beach, near Pier Park, your drive will be a little longer, but still well worth it!  Parking is a bit limited during the busy Summer season, but luckily there is a large public parking lot behind the restaurant that is free to park in.
Ambiance
Hunt's can get pretty loud and rowdy at times, especially if you are sitting at the bar, but that's what you are there for!  Expect to see about 20-30 people waiting out front during the warmer months, luckily you can enjoy an ice cold beverage while you wait for your table or bar seat. The most obvious tip for getting a table without a wait is to avoid Hunts from 5-8pm.  We recommend getting there at about 4:30 to ensure that you can get right in.  We believe that they stop serving at 9pm, so I wouldn't arrive past 8:30 if you want to grab dinner.  Lunch time can also get busy, so it's really hit or miss, they open at 11am and you'll see it fill up right after that.
Cleanliness
This is a good old oyster bar, so get ready to enjoy the smells of those freshly shucked oysters.  The bathrooms are clean, but there is usually a wait as it's only one at a time.  The employees keep the oyster bar clean, and will have a fresh paper placemat out as soon as their customer leaves.
Menu
They have a pretty classic Southern style seafood menu.  While most items are fried, you can also get some dishes grilled.  You'll find everything from oysters, shrimp, Alaskan crab legs, fish, steak, salads & burgers.  If you go with someone who doesn't like seafood, there are plenty of other options. The kids menu is pretty typical, grilled cheese, chicken tenders, burger, etc.  We didn't talk much about their shrimp, but they offer them steamed with the heads on, and they are absolutely divine. The fried shrimp are also very popular, and is another option for someone wanting to tryout some fresh Gulf seafood, who doesn't like the typical fish plates. For alcohol, they have about 5 or 6 beers on tap, and about another 8 or so bottled beer options.  You can also get a glass of their house wines, but it's fairly limited, exactly what you'd expect at a place like Hunts.  There is no hard liquor available.
Prices
The prices are very reasonable, definitely less expensive than the big beach front touristy restaurants.  Most apps are under $10, while the entrees range from $10 – $20.  Unfortunately, oyster prices have risen over the past 5 years due to regulations, but Hunt's has managed to keep their prices lower than most other bars, while still keeping the quality top notch.
Quality
The seafood is always fresh, so their quality is consistently great.  Some of the side dishes they offer can be a little sub par, like the corn on the cob, or veggies, but everything else is really good.  The owner really takes pride in providing the freshest oysters around, and you'll see and taste that when you visit Hunts. Be careful ordering oysters at other PCB restaurants, as you never know how long they have been sitting in their bags.  When you see a place like Hunts turning out hundreds of oyster dozens a night, you know you are always getting a freshly harvested oyster.
Presentation
Food presentation is fine, nothing special, but again, exactly what you would expect from a little place like Hunts.  All menu items are served on colorful plates, oysters are served up on the traditional food tray. The shuckers do an excellent job, and the oyster presentation is first class, very rarely will you bite into a piece of oyster shell which is a sign of a rookie shucker. Since they are real oysters, you may end up finding a pearl. The shuckers are usually the first to find the pearls and may offer it to you if you are sitting at the bar.
Service
Hunt's wait staff is outstanding, they are usually pretty fast at getting your drink orders in, and taking care of you during your meal.  Now, like most other restaurants in Panama City, you may experience some below average service at times, especially when the place is slammed, but overall they do a great job. We have heard of some complaints recently about the bar manager, especially from local patrons, so please mention in the comments below how your experience was.  When it's hot in the Summer, and you've been waiting outside for 2 hours, it can be really easy to blame your server for bad service, but that usually is not the case.  Be ready for a big crowd, there is a reason it's busy, and people keep coming back!
Location

Ambiance

Cleanliness

Menu

Prices

Quality

Presentation

Service
Summary
A longtime local favorite, Hunt's Oyster Bar has become extremely popular among visiting tourists. If you are looking for the BEST raw oysters in the area, you definitely need to try out Hunts. Expect really long wait times in the Summer, but a cold beer or two always makes that wait time go by fast. Somewhere for the whole family to eat, while not breaking the bank, we are sure that you will find something on the menu that you will keep you coming back again and again!