One of our favorite places to eat, J. Michael's is great for both lunch and dinner.  J. Michael's menu offers a wide variety of food choices, everything from a tasty cheeseburger, to fresh seafood, to baked oysters.  Very family friendly, and easy on the wallet, J. Mike's is very popular amongst locals, as well as tourists.
Address: 3210 Thomas Dr, Panama City Beach, FL 32408 (Across from Capt. Andersons)
Website: jmichaelstheoriginal.com
Facebook: facebook.com/jmichaelstheoriginal
Category: Family, Seafood
---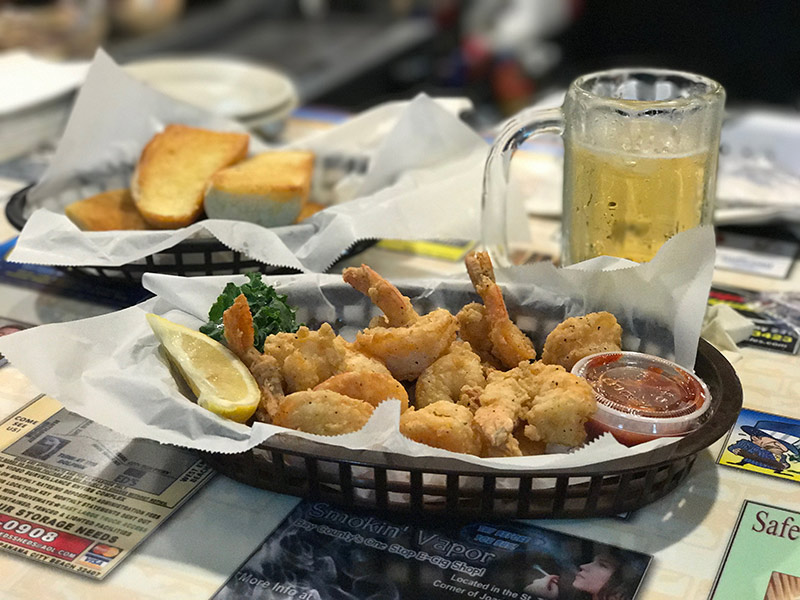 Fried Shrimp
Some of the best local fried shrimp you can get in Panama City Beach.  J.Michael's Fried Shrimp can be ordered as an appetizer or full meal.  The light fresh batter makes these shrimp extremely tasty, definitely some of the best on the beach.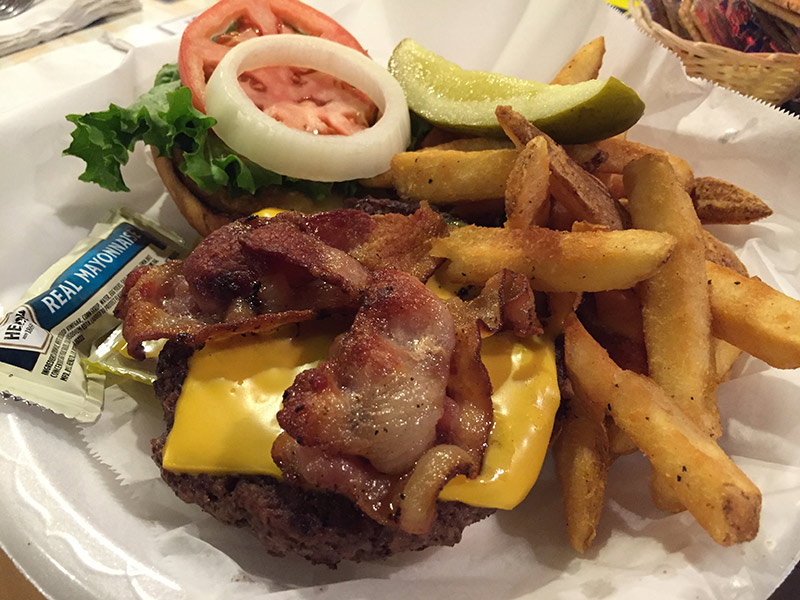 Bacon Cheeseburger & Fries
Delicious choice for someone looking for a Good Old All American Burger.  Add some crispy bacon, and you will be in Cheeseburger Paradise.  Served here with their signature french fries, this meal will leave you completely satisfied!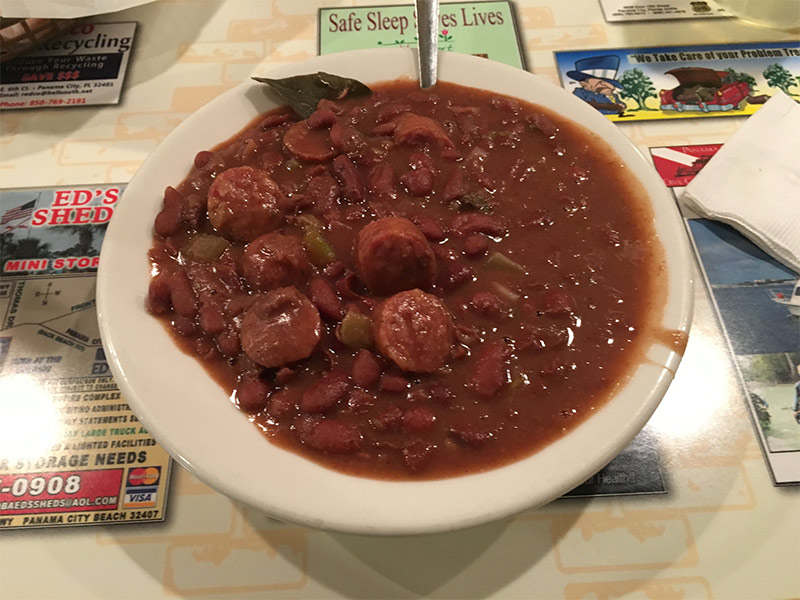 Red Beans & Rice
One of J. Mike's classic meals, this super affordable dish has been on the menu since the start, and is definitely the tastiest Red Beans & Rice recipe you can find anywhere!  Loaded up with sausage and served with a side of their awesome garlic bread, this dish will fill you up!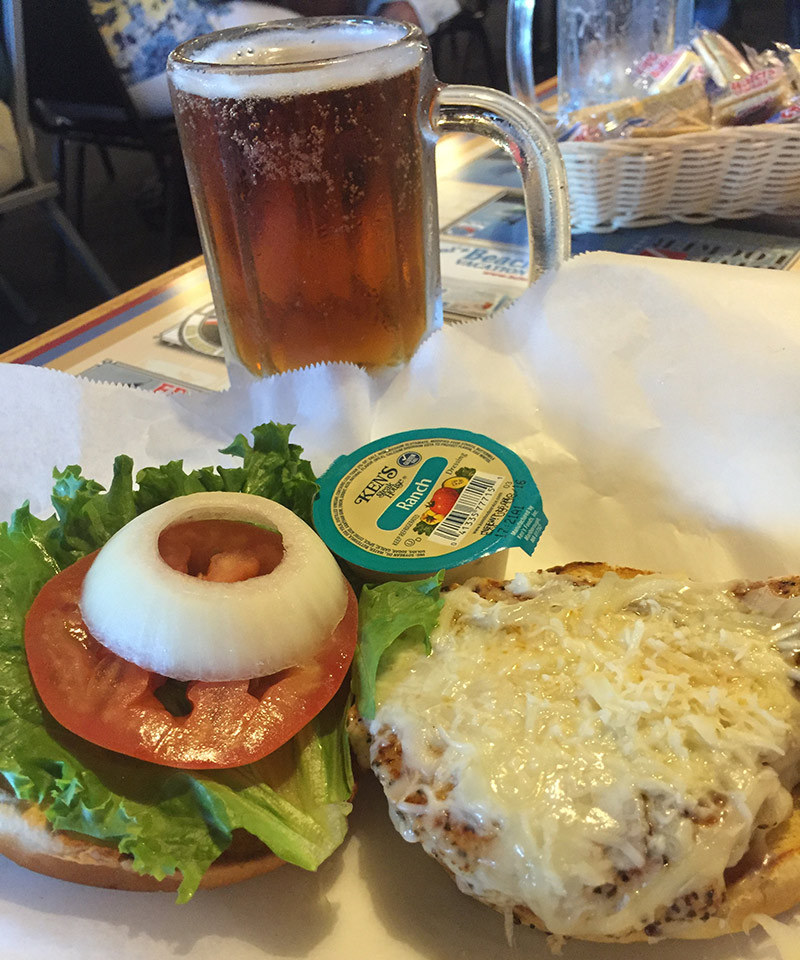 Panama Jack Chicken Sandwich
Served on a soft onion roll, you won't be able to find a more tender chicken breast sandwich anywhere!  Served with chips or you can upgrade to some of their fresh french fries.  Notice the cold frosty mug of beer in the background, we'll talk about that next!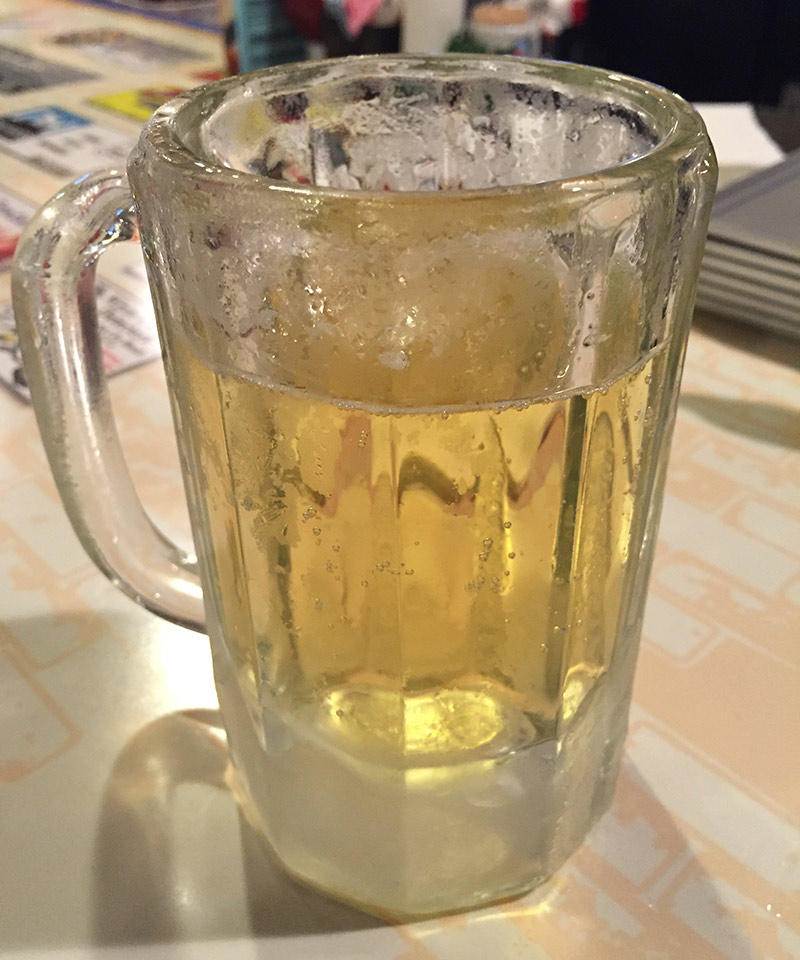 Ice cold beer
We have to mention that J. Michael's has the COLDEST beer on the beach (or in town).  Always served in an ice cold mug, and poured using their top-of-the-line draft tap, making every glass a perfect pour.  Be sure to stop by and check out their great selection of draft & bottle beer.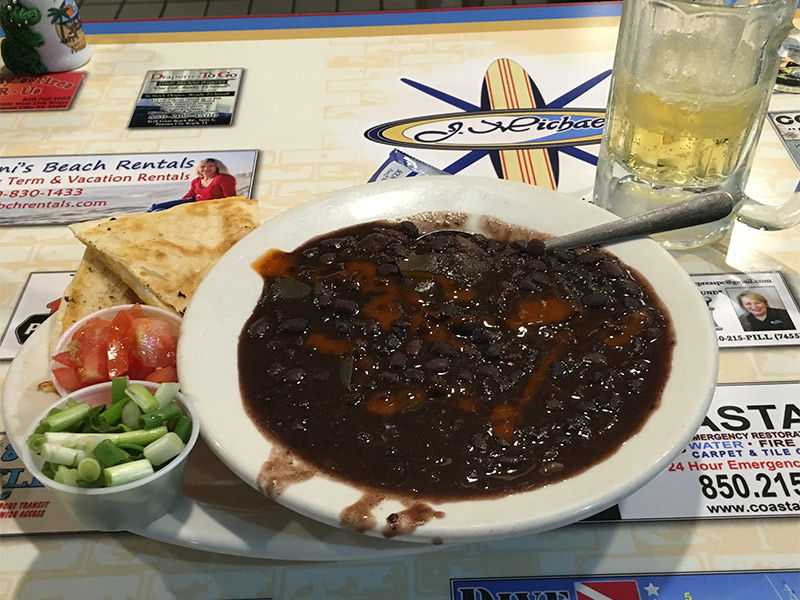 Black Beans with Cheese Quesadillas
One of their daily specials, the Black Beans with Cheese Quesadillas is extremely tasty and filling.  Add a little Crystal Hot Sauce and you have a great option for lunch or dinner.  The price is very affordable!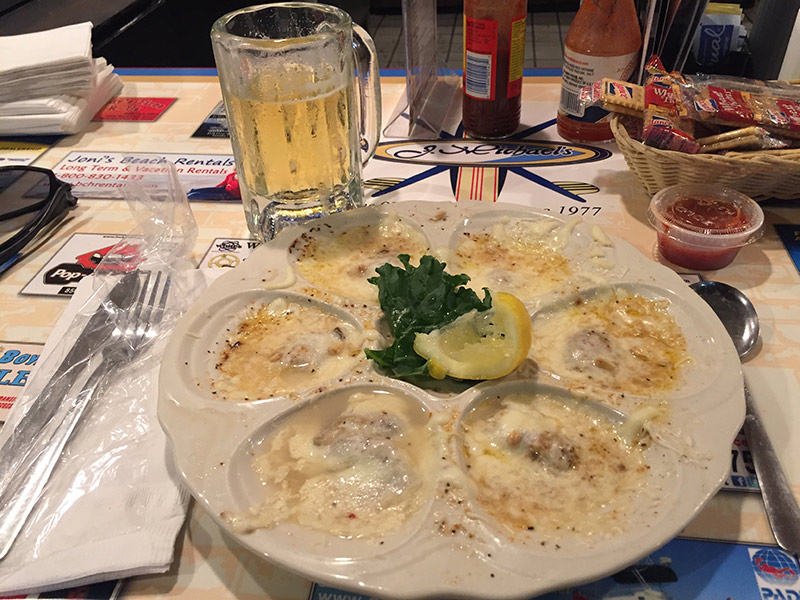 Cheese Baked Oysters
Another must have classic from J. Michael's. These oysters are served by the half dozen and will melt in your mouth!  Also a favorite for those who don't prefer the raw oysters.  If you want to go full supreme, have them add some bacon to these for the ultimate baked oysters. The raw oysters are better at other spots in town, but the baked oysters will hook you here!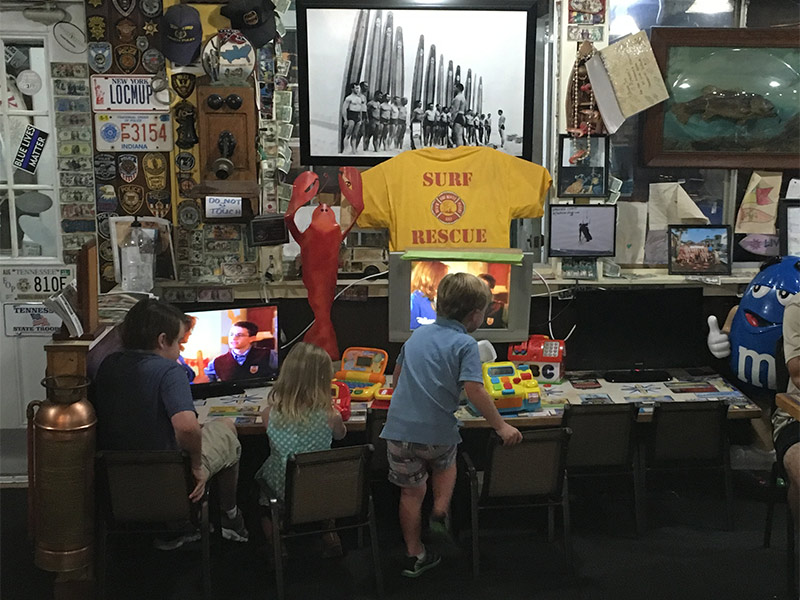 Kid Friendly!
Last but not least, we have to mention howJ. Michael's is kid friendly. A little area is setup for the youngsters with coloring, balloons and TVs that will keep them entertained while you enjoy your lunch or dinner.
---
Location
Located near Grand Lagoon across the street from Captain Andersons, J. Michael's can be accessed from Thomas Dr. or North Lagoon.  If you are staying on the East end of the beach, you definitely have to check them out. If you are staying on the West end or in town, they are definitely worth the short drive.  Plenty of parking in their lot, but does get a little busy in the Summer time.
Ambiance
The inside is like a surf museum displaying many rare classic surfboards. They also have thousands of 1 dollar bills pinned up, and are fun to read like the many old license plates hanging up.  Old photos of the beach & waves also provide a bit of history to the area.
Cleanliness
The entire area always seems clean, inside and out.  The bathrooms are also well kept, and easily accessible.  The bar area is also very tidy, and tables are bussed as soon as parties leave. The dining area is cluttered with memorabilia and some could use a dusting.
Menu
The menu has a variety of appetizers, classics, seafood & salads.  There is something for everyone on the menu, and it will not break the bank if you are taking out the entire family.  We listed some of our favorites above, but their grouper is very popular as well as their seafood platter.  Being kid friendly, they menu also has a variety of choices for your little ones.  Also be sure to check out their daily specials, the spaghetti is Wednesday's most popular dish.
Prices
The price for the quality of food is great, oysters are priced pretty fair as well.  It would be nice if their kid's meals came with a drink, but not a deal breaker as the meal's alone are average priced.  The daily specials are great, and if you are on a budget the Red Beans & Rice or Black Beans is a super deal.
Quality
The quality of the food is amazing, always consistent.  J. Mike always uses fresh seafood and ingredients, so you are sure to get a great meal each and every time.  Food portions are perfect, not too much and not too little, just the right amount. That being said, a lot of the food tastes extra salty and it can diminish the flavor of many of the menu items
Presentation
Presentation is great, sandwiches and burgers are served in a traditional basket, while baked oysters come out in their own special oyster platter.  Raw oysters are served up on a tray the old school way.
Service
Service at J. Michael's is always good.  Their friendly hostesses & servers always have a smile on their face, and will remember you the next time you come in.  Many of Mike's waitresses have been with him for many years which is a testament that they do an excellent job at serving their customers.  The girls behind the bar are always friendly, and will have your next drink ready when you are taking the sip off your last one.  Now like a lot of restaurants in Panama City Beach, J. Michael's can get a bit crowded for dinner time, so be ready to wait a little.  The good thing is, they have a cool outside deck area that serves up cold beer & wine while you wait for your table.
J. Michael's Rating
Location

Ambiance

Cleanliness

Menu

Prices

Quality

Presentation

Service
Summary
J. Michael's has always been a true local's favorite. Whether you want to grab a quick lunch, or take the family out to dinner, J. Mikes is a great choice. Their diverse menu caters to the entire family including the kids. If you are in town visiting, and want to get some great seafood, but don't want to spend a ton of money, this is the place to go. Once you try out J. Michael's you will be a repeat customer as their consistency and quality of food will keep you coming back for more.