Los Rancheros Mexican Restaurant and Cantina has been in this location for many years, back when 23rd Street was still an unpaved road. There are two locations- one on 23rd Street and one on the beach off of R. Jackson Blvd. They serve the same menu items.
Address: 208 W 23rd St, Panama City, FL 32405 (At 23rd and Jenks)
Website: Los Rancheros
Facebook: LosRancherosPC
Category: Mexican
---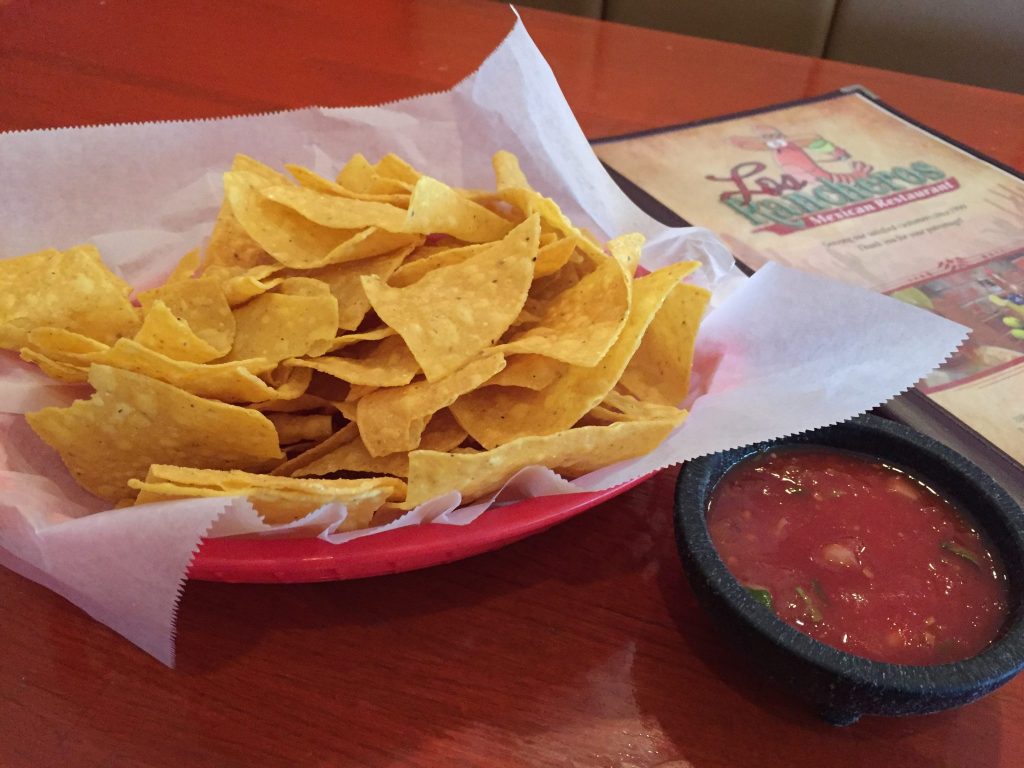 Chips and Salsa
Great chips, freshly made, nice and crunchy. Salsa is good but can be bland. However, you will be asking for more during your short wait!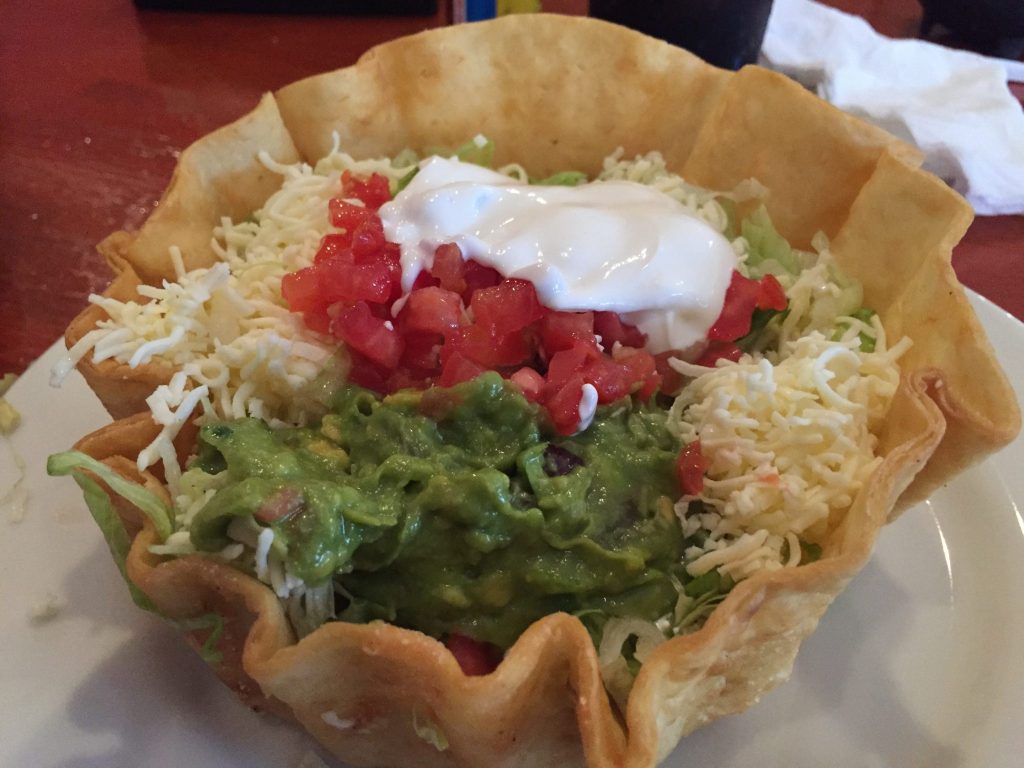 Taco Salad
Fresh ingredients inside of a crispy shell, this taco salad has a great texture. Choose between chicken or ground beef. The flavors are good, and the price is very nice. Sometimes the meat can be just right, but at other times it may taste a little older, or be a little wet. This definitely can affect the texture of the shell. Also served with pico de gallo, sour cream and guacamole.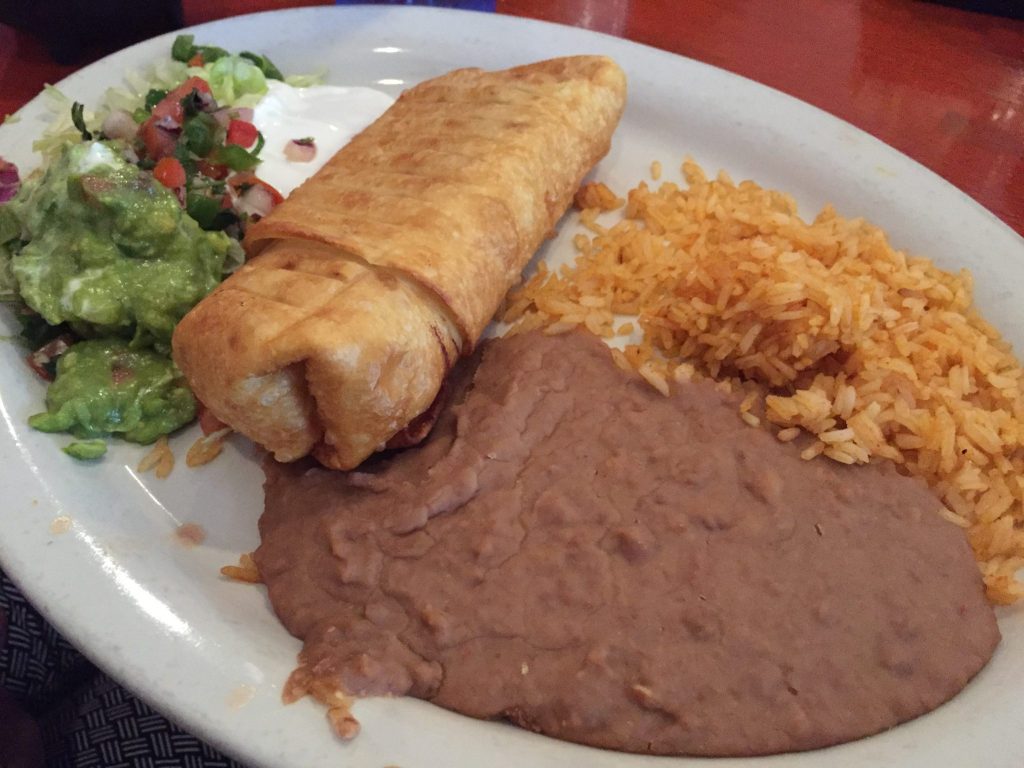 Chimichanga
A classic Tex-Mex menu item, this fried burrito is tasty and well made. Choose between chicken or ground beef. The meat is good and the chimichanga has a great texture. It is on the lunch special menu and comes with rice and beans, as well as lettuce, pico de gallo, sour cream and guacamole. The guacamole is one of the best in town, so it goes very well with the dish. The beans are bland and the rice is also.
---
Location
Los Rancheros Mexican Restaurant is located on 23rd Street a number of blocks from the mall, this first location been in the area for decades. Located on the Northwest corner of Jenks and 23rd Street, this is a convenient location to drive to, but a tricky spot to reach when crossing traffic to enter into the parking lot. The parking lot has a few spots in front and on the side, but there is much more parking space around back. Overflow parking is available at the restaurant next door, which is all reachable by the back parking lot.
Ambiance
The roof at Los Rancheros Mexican Restaurant recently had serious issues and was replaced, so the ceiling is new in the main dining room and the bathrooms have been updated as well. The ambiance is typical for a Mexican food restaurant with older decor so it isn't bad. Luckily the decor is not gaudy and over done, it is just simple and straight forward with a Mexican heritage flair. Most of the seating is booths, which I always like, but there is a large area for tables that are typically combined for large parties, which you will see frequently. It is not uncommon to see a 20 person party on popular nights. The bar area could use a facelift and brighter colors throughout. All in all, pretty plain, but not overdone.
Cleanliness
There is always a clean place to sit and the tables are bussed quickly at Los Rancheros Mexican Restaurant. The floor is clean, but the decor gives you the impression it is not as clean as it is, but that is probably due more to the colors, lighting, materials, and age of the building. The bathrooms were recently redone so they are nice and typically clean as well.
Menu
The menu has a nice mix of a la carte and entrees, but serves general go-to Tex-Mex food. The chips are made in house and are great, but the salsa is pretty good. Most everything tastes good, with well flavored meats, fresh ingredients, and enjoyable texture. Avoid the tostadas since for some reason they are not made with beans, which makes them soggy and wrong. Most everything else on the menu is good. Don't forget this is regular Tex-Mex food, so it can be heavy on your stomach with all the extra fats. There is not a single time I have eaten here that I have gotten food poisoning, but some of my friends have gotten stomach upset, and usually every time. This isn't from their food quality, it is just a high fat content of the food. If you are one of these people, take that into consideration when you order. One of the hallmarks of decent Tex-Mex is good rice and beans. The rice is not the most flavorful, but the texture is good. The beans are pretty tasty, good texture and do not taste burnt. The kids menu has a lot of Tex-Mex options, as well as a few American food options. The chicken fingers are surprisingly good, and be sure to try it with the honey mustard sauce. Feel free to take your picky little eater with you when you visit. Not the most flavorful or authentic Mexican food restaurant, but on par for the area.
Prices
Los Rancheros prices are very budget friendly. You definitely get a great portion for the cost with any meal here. Great two-for-one specials on drinks all day everyday.
Quality
The quality of the food is good. Though you are getting food at a very cheap price, there is consistent quality with the fresh ingredients and the food prep. Not fine dining, but the food is a good texture and an ok flavor, and that is common for the Tex-Mex or Mexican food in the area.
Presentation
The food presentation is ok. The food looks nice on the plate, plates are heavy and usually hot, but there is nothing special about the presentation. All the fresh ingredients on the plate look fresh and colorful.
Service
The staff can be friendly, but others can be short. The workers do not seem to be friendly, only in making a friendly impression. My family speaks a little bit of Spanish, and the servers seem more annoyed than anything when we order in Spanish, even though the servers are Spanish speakers. Service time is not the quickest, but it is not slow. Sometimes the server can forget about you or mess up your order. Not the best or friendliest service, but no bad service issues at Los Rancheros Mexican Restaurant.
Location

Ambiance

Cleanliness

Menu

Prices

Quality

Presentation

Service