Triple J Steaks and Seafood is a fantastic steakhouse and seafood experience. Quite the popular place to eat, it is a local favorite on the East end of the beach and well known to tourists. Both dinner and lunch food are satisfying, but there is also a bar in the middle of the restaurant complete with its own bar menu. During busy tourist seasons, it can be difficult to get in to eat here since it is a staple of the area.
Address: 2218 Thomas Dr, Panama City Beach, FL 32408 (Near Publix on Thomas Dr)
Website: TripleJSteakhouse.com
Facebook: TripleJSteakhouse
Category: American- Steaks and Seafood
Map
---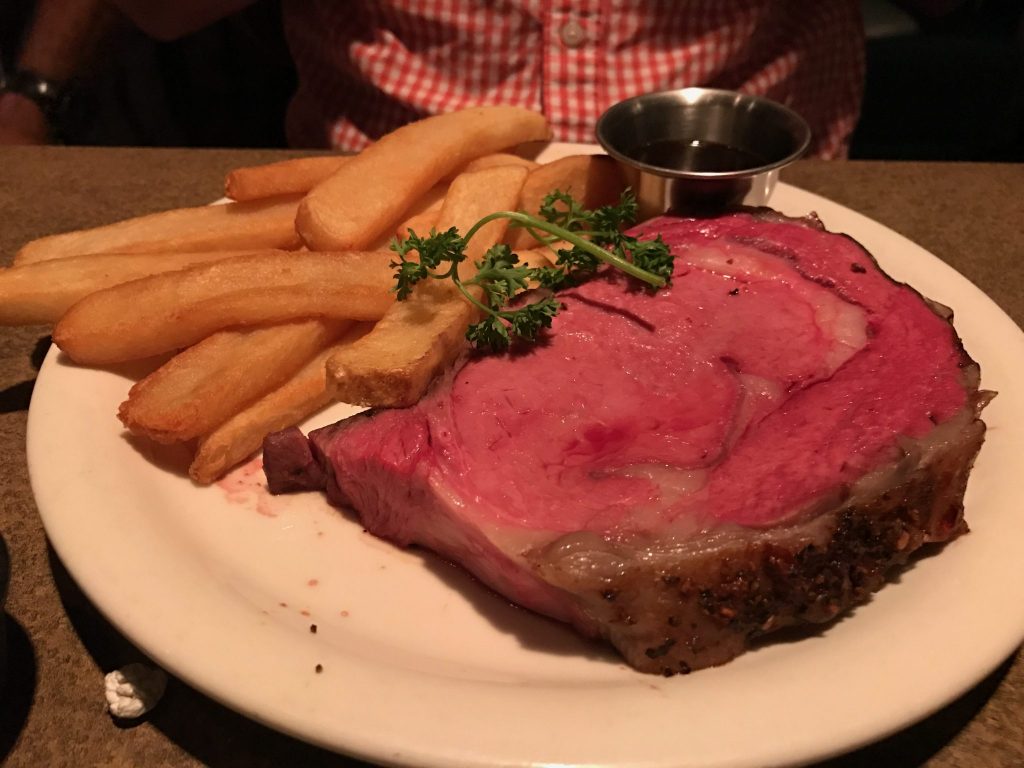 Prime Rib
One of our favorite people makes a point to go out of his way each time he visits and insists on the Triple J's Prime Rib. You cannot blame him, since it really is tasty, has a buttery flavor with a soft, juicy texture. There are plenty of sides to choose from, but the Steak Fries are a classic choice, and tasty one at that. Served with aus jus, they also have steak sauce, horse radish, as well as ketchup for those who prefer to eat their steak the way they choose.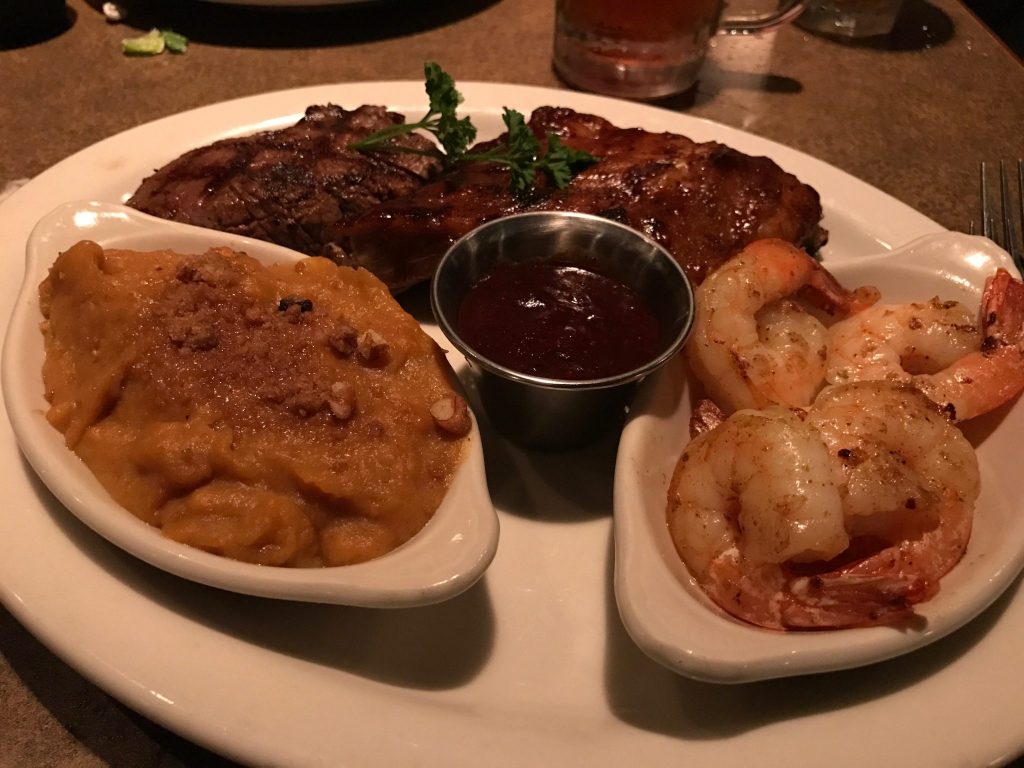 Steak and Shrimp Special
One of my personally favorite specials, it usually ends up being what we order. Not too large of a portion of steak, which they are reliable at cooking to your liking, and the texture is soft and juicy. The steak was excellent, well flavored, and buttery. The shrimp is good, cooked with a good texture, and flavored well, but the steak steals the spotlight. Featured in the picture is the sweet potato soufflé, which is an amazing side dish, almost a dessert with the brown sugar and pecans. All in all a great dish.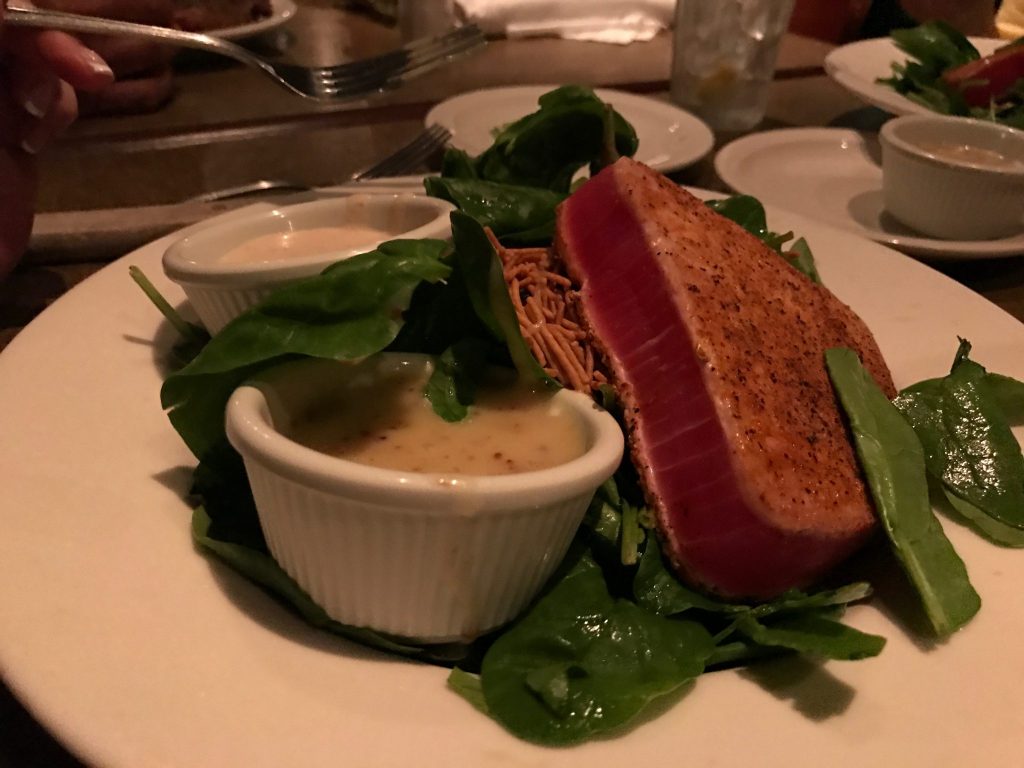 Seared Ahi Tuna Salad
Another classic menu item, do not be afraid to eat seafood here as most of the dishes are excellent and fresh. This dish features seared Ahi Tuna steak, not overdone, flavored well, great texture, wonderful aftertaste since it is a quality piece and served fresh. Topped with crispy rice noodles, dried cranberries and seared Ahi Tuna, served on a bed of romaine lettuce, red and green cabbage, shredded carrots, and green onions tossed in Honey-Lime dressing. The dressing is memorable since it is perfectly paired with the rest of the dish. Definitely worth trying.
---
Location
Located on Thomas Drive, this location is on the East Side of the Beach on a main artery between the beach and Hwy 98. Not far from the Naval Base, the building is across the street from the Publix. Parking is ample on their private parking lot adjacent to the building. When it is busy, you may have a hard time finding a spot which is a good indicator you will have a long wait time for a seat.
Ambiance
Triple J has a calming, comfortable feel with the low lighting and cool colors in the interior. The dark colored woods add to the look. The room has issues dampening sound, so expect it to be loud while you are eating if it is busy- or even half full. There are numerous booths, but also a lot of tables, good for larger parties. Don't forget the bar, which has not only a number of barstools to sit at, but also a handful of bar height tables. While it has a charming and comforting appeal, it can seem quite dark at times, but not unsafe.
Cleanliness
One thing about Triple J is that they always do a good job of bussing tables. The floor is swept regularly- at the end of lunch and dinner possibly. The ground is well kept but there always seems to be some trash in the parking lot. The bathroom is nicely decorated and usually well kept.
Menu
The menu has a nice mix of appetizers, entrees, and sides. Most everything tastes great, with fresh, savory flavors. The steaks are cooked consistently. The seafood is delicious and paired well with the rest of the dish. Sandwiches during lunch are fantastic. Salad ingredients are always fresh. Side dishes are surprisingly good with many options. Typically I rotate which ones I get since I have a number of favorites. There is a separate bar menu which is quite tasty with upscale appetizers, not just the regular deep fried bar food. Brunch is served on the weekends only and is of a higher quality than most surrounding breakfast diners.
Prices
The prices are slightly overpriced during Dinner, which seems predictable for steak and seafood places. Splitting plates between people will create an additional $3 charge, but you get another side to offset the upcharge. Lunch prices are more palatable for your wallet. Triple J has a daily Happy Hour with specials from 3pm- 7pm. Brunch is only served on Saturdays and Sundays starting at 8am, and those prices are higher than average breakfast prices. However, the food served at Brunch is a little nicer than the food served at average breakfast diners.
Quality
The quality of the food is very good. The steaks are tender, buttery and juicy. Seafood is also tasty and fresh. Salads and side dishes are noticeably fresh and served at the appropriate texture. For the most part, the steaks have been a consistent quality. On our last visit the steaks were full of fat and gristle, which we rarely see there. You will find that the sides are just as good as the main dish here at Triple J.
Presentation
The food presentation is great. All food is served on heavy dishes that are white with a no nonsense design. There is not any artistic drizzle, but the food is arranged nicely on the plate. Many of the sides are served in smaller dishes on top of the main dish. All of this adds to the appeal of the food and yet provides a comfortable feel to the ambiance.
Service
Either the manager or owner is onsite at any time to resolve issues you may have. They seem to run a tight ship. The staff is friendly and they aim to please.
Recently we did have issues with one of our servers who was not good at waiting tables, even though he was nice. For instance: he let all our drinks go dry and refilled my Sprite with water, did not give us any condiments, was not available when we needed him, served the appetizers at different times for the table (two salads 10 minutes apart) and made us ask repeatedly for bread while waiting for our food, then gave us two breads and one butter with our entrees. Please comment below if you too have had a similar experience.
The server made our experience that night a bad one, so we addressed the issue with the owner. The owner apologized and resolved the issues to our satisfaction. That being said, all the other nearby servers picked up the slack where that server dropped the ball, and they did so without complaining or an attitude. Normally the service is great and we have no issues, so this is what we consider an isolated and new server. Since the owner resolved it to our satisfaction and the other servers helped us when needed, we consider this a plus and not a negative.
Location

Ambiance

Cleanliness

Menu

Prices

Quality

Presentation

Service