A different take on an old classic, Gypsea Crepes has reinvented the crepes into not just a sweet treat but also a savory wrap. Ingredients range from sweet fillings like fresh fruit, whip cream, yogurt, granola, nutella, and cheesecake, to savory fillings like meat, cheese, spinach and veggies. The combinations that they come up with are So Tasty. Be sure to drag your friends to this cute little spot to try something that all of you will enjoy.
Address: 7012 Thomas Drive, Panama City Beach, FL 32408 (Near the Thomas Curve)
Website: not one at this time
Facebook: Gypsea Crepes
Category: Breakfast and Lunch
---

Strawberry Banana with Oreos and Cheesecake
This is a sweet crepe with all the upgrades! The ingredients are very tasty and the crepes are cooked just right! But all these upgrades take a great thing and make it spectacular. Not quite for everyone, but definitely worth the try for those who are adventurous.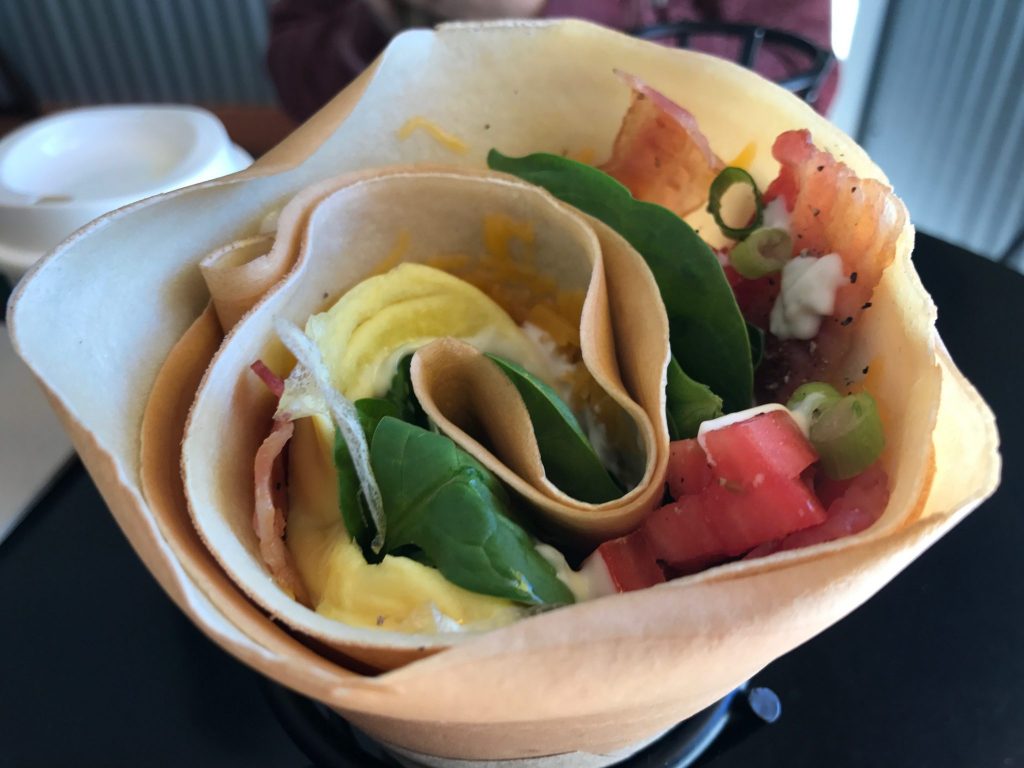 Sunny Bacon
Tasty Breakfast Crepe made with many of the most common breakfast ingredients, and more, this crepe will hit the spot and solve your morning cravings. Instead of the same old boring breakfast made the same way, this is a twist on the classic breakfast.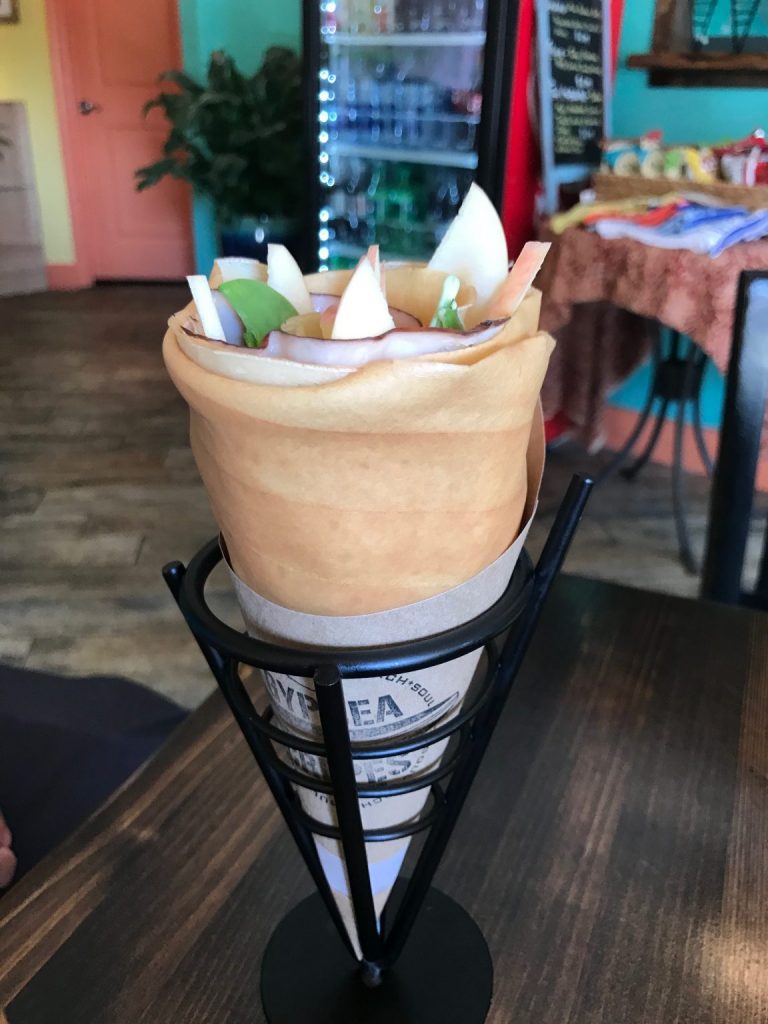 The Eddie
A Savory Crepe that you can enjoy at any time of day, this crepe with its fresh combination of ingredients is a fantastic blend of sandwich items with an apple added in to bring a contrast to the different flavors. If you are tired of the same old thing, this or any of the other Savory Crepes is exactly what you need to break away from the daily grind.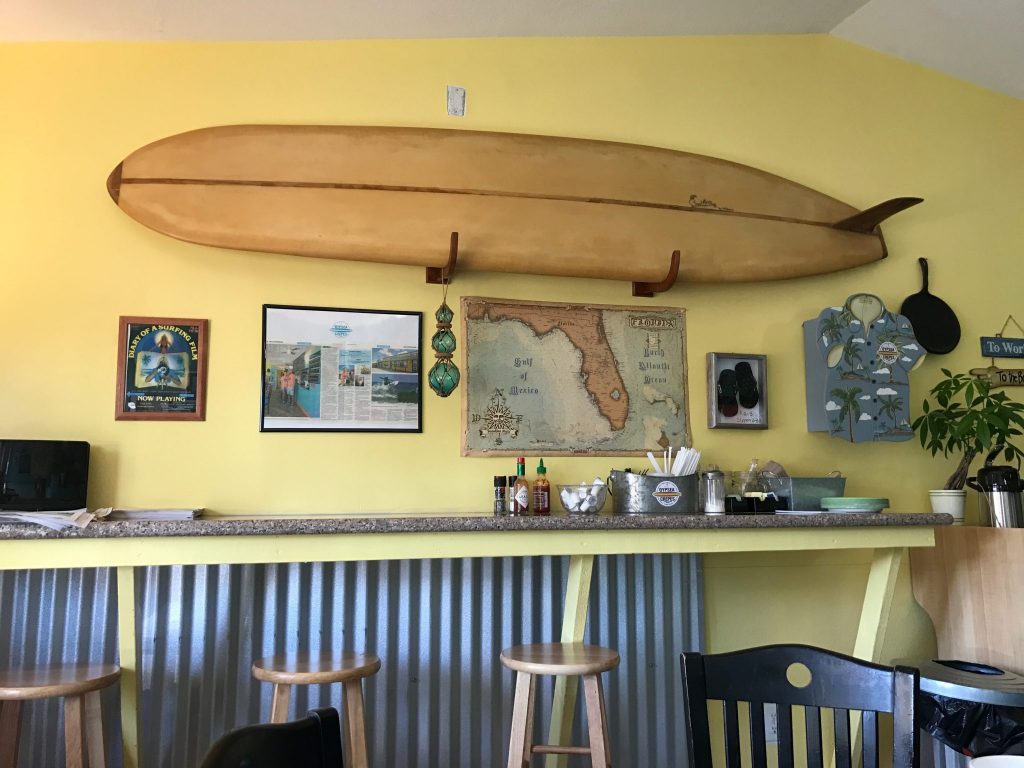 Surfer Theme
The owner of Gypsea Crepes is one of our local surfers, so the way he decorated this quaint space gives it a happy island vibe. The colors of the interior add to the flavors, matching the bright, fresh flavors with bright, cheerful colors.
---
Location
Located between the Thomas Curve and Club La Vela, this spot is quickly gathering a following. There have been a few crepe spots over the last few years, but they never caught on this way. Gypsea Crepes is right next door to Marcus' Gulf Pizza and Delivery, so parking is hard to find. It is right on Thomas Drive, so you cannot park on the street, but you may be able to use the nearby Waffle House parking lot or around back.
Ambiance
The inside appearance takes after every surf inspired location with bright colors and surfing gear. It is a cozy, happy spot with a large open window and Reggae softly playing. There is seating for about 20 people, so you may feel want to get your order to go if you all of the seats are full. Otherwise, you may feel like staying and enjoying the atmosphere.
Cleanliness
This place is kept clean. You can watch them prepare your crepes right in front of you and see the process as it comes along. The view into the kitchen shows how clean it is kept, so rest easy.
Menu
The menu has traditional sweet styled crepes, as well as new styled sweet crepe ingredients and combinations. But the biggest surprise is the savory crepes. The savory crepes are basically fresh sandwich wraps with healthy ingredients. They have the best combinations available and new ones coming all the time. Choosing which crepe you are going to eat is the hardest part of the visit, they all look so good! There are also chips and drinks available to fill out your order.
Prices
The prices are good. Most crepes are between $6-10, but you can add-on or substitute ingredients at different costs. One crepe is large enough to get you full, but they are so good you may be tempted to eat a second.
Quality
The quality of the food is great. Each ingredient is noticeably fresh. The combinations have great flavors and complimentary sauces. Each crepe is consistently cooked just right.
Presentation
The food presentation is interesting- not in a bad way. The crepes are rolled into an ice cream cone shape, wrapped in paper, and put into holders that keep them upright. Eating them is just like eating an ice cream cone that you have to tear the paper as you eat. This makes it feel very unique.
Service
Service is friendly but it can take a few minutes to get your order in at times. Only one person is usually working so you order at the window to the kitchen and can watch as one person makes your food one crepe at a time. All in all the service is fast and friendly.
Location

Ambiance

Cleanliness

Menu

Prices

Quality

Presentation

Service